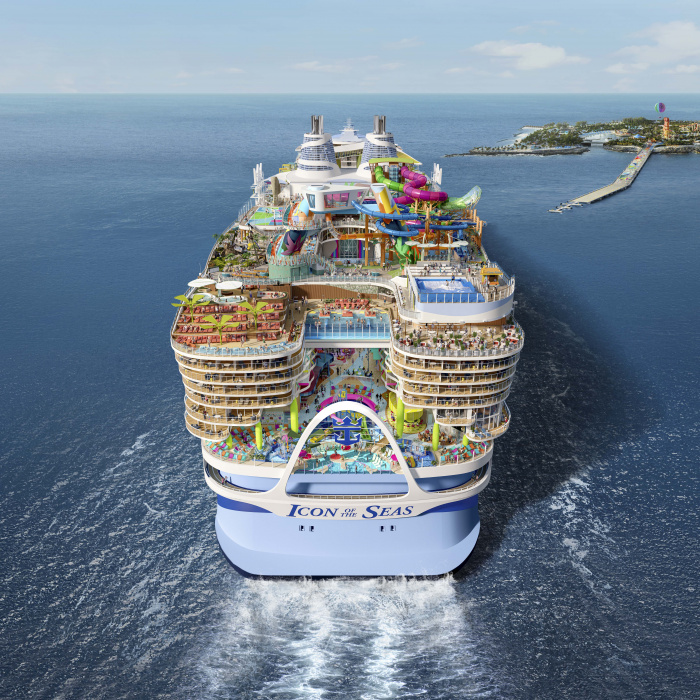 Royal Caribbean's recently announced Icon of the SeasSM has a slew of new features, a mountain of firsts, and tons of upgrades that make this ship one for the record books. Icon of the Seas is the first of three ships in Royal Caribbean's Icon Class, bringing cruising to a new level. As the largest cruise ship in the world, Icon of the Seas has a plethora of activities designed for groups and families seeking thrills, chills, and much more. It's also Royal Caribbean's most sustainable ship, fueled by liquefied natural gas (the first cruiseliner to do so). The Icon will set sail beginning January 2024. Reservations are now available through mid-2025. Learn more about what makes Royal Caribbean's newest ship iconic!
Ready to see the Icon in all its glory? Get a free quote for your trip today!
Iconic Neighborhoods
Neighborhoods are the hub for entertainment, dining, and everything there is to do on a Royal Caribbean ship. Each neighborhood has a unique theme and purpose, much like the different lands at theme parks. Staterooms are dispersed throughout these districts, so you can find a room close to the action. There are eight neighborhoods, with five brand new to this ship. Here are a few highlights from notable neighborhoods on the Icon:
AquaDomeSM
The AuqaDome is one of the ship's defining features, creating a faceted, gem-like circular structure on the ship's bow. The AquaDome transforms by day and night, with distinct offerings all day long. By day, the AquaDome features a ceiling-to-floor indoor waterfall, lush landscaping that reminds you of a tropical oasis, and places to enjoy cocktails and snacks while taking in panoramic ocean views. At night, the AquaDome converts into a one-of-a-kind immersive theater with an innovative water show with live performances, stunts, fountains, projections, and robotics.
Thrill & Chill Islands
These two neighborhoods provide the ultimate way to cool down and chill out aboard the Icon. Thrill Island is home to Category 6, the largest waterpark at sea. The waterpark includes six slides and a host of other firsts, like the first open free fall slide at sea, the tallest drop slide at sea (measuring 46 feet tall), the first family raft slide at sea, and the first mat racing duo slide on a cruise ship. Crown's Edge, part of Thrill Island, offers land lubbers exhilarating activities like a ropes course and an attraction that allows you to swing off the ship—over 150 feet above the ocean.
After all that excitement, head to Chill Island to relax and unwind. This area encompasses three decks with four pools, including the largest pool at sea and cruising's first swim-up bar. There is also an adult-only pool and an infinity edge pool.
SurfsideSM
This neighborhood is specifically designed for families with children six and under. The area allows adults to watch their preschoolers and toddlers at Water's Edge Pool while allowing kids to play and explore Splashaway Bay and Baby Bay. This area also has a carousel, arcade, and other boardwalk-style activities.
Hideaway
The Hideaway is the place for a tranquil retreat aboard the Icon. It includes a bar and the first suspended infinity pool at sea.
Other Neighborhoods
Royal Promenade, Central Park, and Suites neighborhoods (found on other Royal Caribbean ships) are given an iconic twist. This includes floor-to-ceiling ocean-view windows and over 15 restaurants at the Royal Promenade, four decks of suite accommodations, and entertainment in Central Park.
Accommodations
With 28 types of staterooms aboard the Icon, you'll find a spacious and luxurious room that's perfect for you. Designed with families in mind, the Icon features standard staterooms that sleep four guests, Family Staterooms that sleep up to six guests, and suites.
The various types of suites available on the Icon make them the most flexible and spacious way to stay during your cruise. Suite options include:
Family Suites with separate kid areas
Sunset Suites, where the bed and other amenities face the ocean
Infinite Grand Suites with a living room and split bedroom
Ocean View Panoramic Suites with floor-to-ceiling windows
Royal Loft Suite, the most luxurious suite aboard
Loft Suites
Junior Suites
Grand Suites
Owner's Suites
There is even a three-story townhouse suite that will make you feel right at home, with a white picket fence and a mailbox that sleeps up to eight guests. Did we mention it also has a slide that allows you to go from one floor to the next?
Guests who book suites on Royal Caribbean ships also enjoy extra perks, like priority boarding and departure, concierge services while onboard, two exclusive eateries, an exclusive lounge, and a sundeck.
Dining
The Icon includes 40 dining locations, with a mix of premiere restaurants and included eateries. The ship's premiere restaurants feature Royal Caribbean favorites like Giovanni's Italian Kitchen, Izumi Hibachi and Sushi, Chop's Grill, Hooked Seafood, and Playmakers Sports Bar & Arcade. Included eateries provide any dining option your heart desires, from grab-and-go burritos and all-day pizza to buffets and multiple-course meals in the three-story dining room. A wide range of lounges and bars, including Point & Feather, The Schooner Bar, and The Attic, also appear on the Icon. The Lime and Coconut®, Royal Caribbean's featured bar, has three locations throughout the Icon. There are also many places for snacks and coffee, including a stand-alone Starbucks, a candy and ice cream shop, and two cafes.
Attractions
In addition to the attractions listed above, the Icon includes a host of returning favorites, like a rock climbing wall, mini golf, a surf simulator, and Absolute ZeroSM, Royal Caribbean's largest ice arena—complete with performances from Olympic-level skaters. There are also exclusive areas for teens and adults: Social020 is a lounge for teens, and Cloud 17SM is an adult-only pool deck. Attractions are rounded out with seven pools and nine whirlpools throughout the ship.
Ports of Call
Icon of the Seas will sail seven-night cruises to the Eastern and Western Caribbean. All itineraries include stops at Royal Caribbean's private island in the Bahamas, Perfect Day at CocoCay. Perfect Day has thrills all its own, including a waterpark (with the tallest slide in North America), a club and lounge, and overwater cabanas—the only ones in the Bahamas. Other stops on the Icon include Cozumel, Costa Maya, St. Maarten, St. Thomas, St. Kitts, and Roatan, Honduras.
Cruise the Icon with Wishing On A Star Travel ®
Icon of the Seas will sail out of Miami for the first time in January 2024. Reservations opened in October and can be booked through mid-2025. Reservations are already in high demand: Royal Caribbean received its greatest amount of single-day reservations the day bookings for the Icon opened.
Ready to sail on the Icon? We have great news! Wishing On A Star Travel ® will host a group sailing on the Icon from July 27 to August 3, 2024. Our group pricing will save you hundreds off booking by yourself! Also, get a free $100 onboard credit when you book any sailing on the Icon now through the end of 2023.
Limited time offer—Black Friday deal! Book with Wishing On A Star Travel ® and get up to $100 of free onboard credit for any Royal Caribbean sailing when you book between November 25 and December 9, 2022. Get a quote for your trip, or call 1-888-678-TRIP to get started!
Don't forget to join our email list for travel deals and news delivered to your inbox!