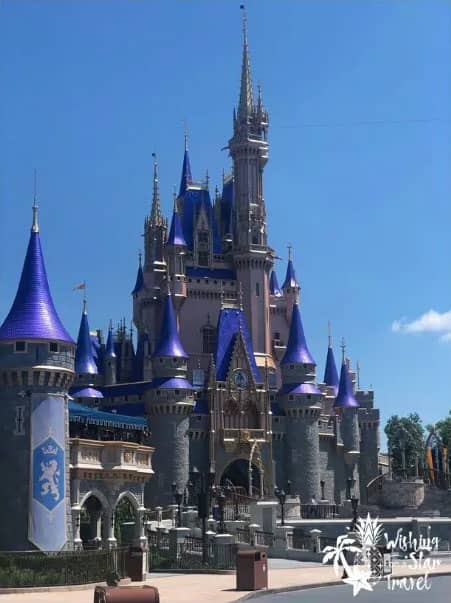 Oh, how we have waited for this day! On July 11, 2020 both the Magic Kingdom and Animal Kingdom re-opened after a 100+ day closure! Both Hollywood Studios and EPCOT followed with their re-opening on July 15, 2020. I was there to experience the re-opening of the parks and I am excited to share with you my experience and thoughts.
Let's start with the biggest elephant in the room. Is Disney still just as magical with all the new safety protocols in place? The answer is an astounding YES! After 40+ trips to my second home, I can fully say this was one of the best trips I have ever experienced! The magic is still there, even though it may look and feel just a bit different. From cast members telling you "Welcome Home" or "we are so glad you are here", I often found myself with tears in my eyes thinking of how fortunate I was to be there to experience and celebrate this momentous occasion!
What is Disney doing to keep you and your family safe? The answer: EVERYTHING! From mandatory face masks (which were way more tolerable than expected in the 100 degree heat) to social distancing markers in the ride queues, Disney has your safety in mind every moment of your trip. Here are the highlights and our pro tips for your visit:
1) Disney's Magical Express will allow no more than 20-25 people at a time. This helps to appropriately separate families on the bus and ensures you are not coming into close contact with other guests. Because of this, you may experience slightly delayed pick-up times upon arrival. However, returning to the airport in my experience was a breeze as our bus only had a total of 7 people on it. The return ride to the Orlando International Airport will still pick you up at your resort 3 hours prior to your flight time.
2) Park buses will allow no more than 25 people at a time on board. All seats are now numbered and metal dividers are installed every few seats to allow for social distancing. You will be instructed by your driver as to where to sit when you board the bus.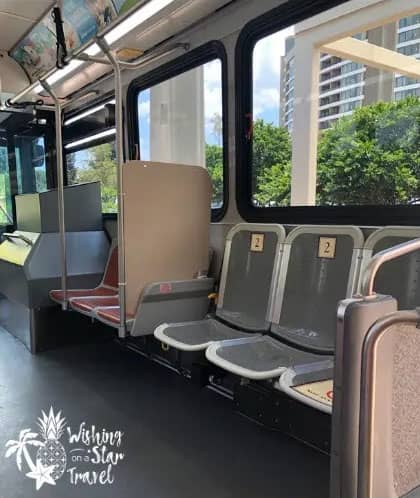 3) Monorails are allowing only one family per side. There is a fabric divider placed between seat backs to separate the cars.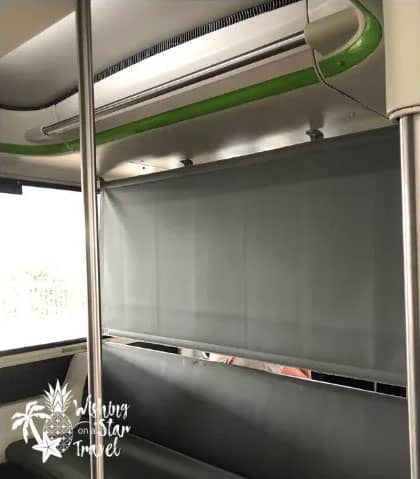 4) Disney Skyliner will allow only one family per car.
5) Temperature checks will be conducted at each park entrance, the entrances to Disney Springs and any of the monorail resorts prior to boarding the monorail. If your temperature scans high, you will be moved to an air conditioned tent and given time to cool down where you will then be re-scanned again. If you pass, off you go on your park adventure! If you still scan high, you will be asked to return to your resort for the day.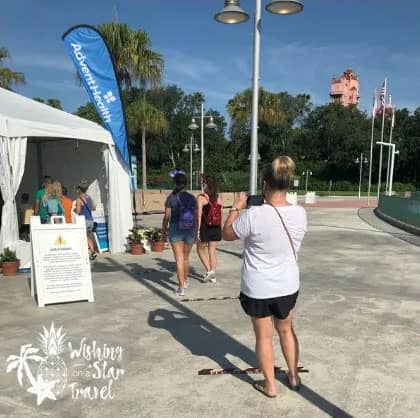 6) Masks are required and they were being very much enforced during my visit. You must wear a mask that loops behind your ears. Neck gaiters are not allowed at this time, unfortunately. I took several different types of masks with me from fabric masks, cotton masks and medical grade masks. I found the blue medical grade masks to be the easiest to wear and breath in. Pro Tip: Pack extra in your park bag so if your mask gets wet from sweat or water rides, you can easily swap it out. I found changing out my mask every few hours helped tremendously.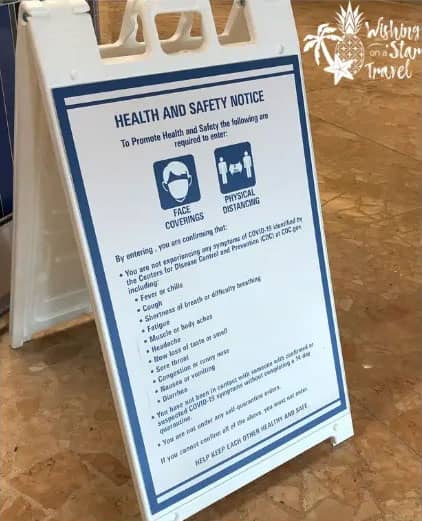 7) All ride queues are marked with social distancing markers every 6 feet and they are being highly enforced. The addition of plexi-glass and/or metal dividers where feasible have been added to ride wait queues as well.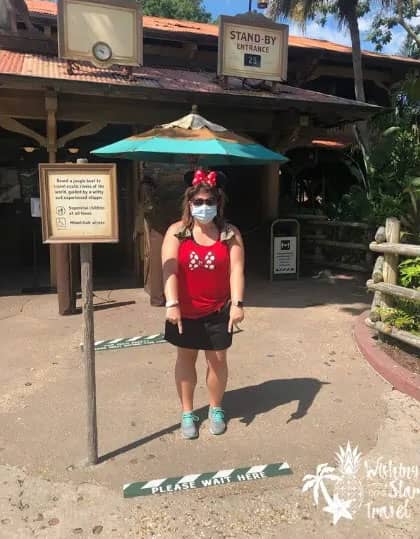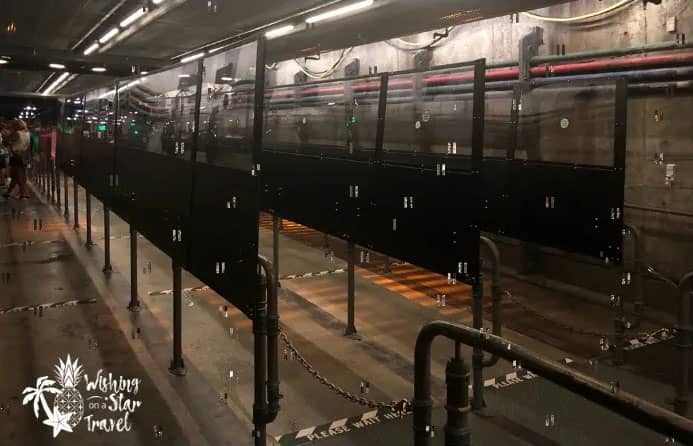 8) There are mobile hand-washing stations throughout the parks and you are encouraged to use them! They are hooked up to a water line so you can use actual soap and water to sanitize your hands. Pro Tip: Never pass up an opportunity to hit the restroom as you pass one to wash your hands as well!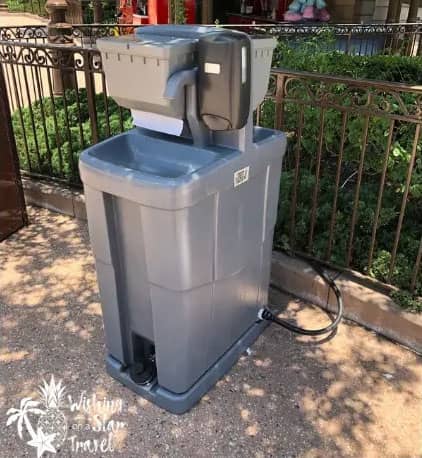 9) There are liquid hand-sanitizing stations at the entrance and exit of each ride attraction, at elevators, at the monorail and bus stations and throughout your resort. Plenty of opportunity to sanitize your hands!
10) Cast Members are continually cleaning and sanitizing both the common areas in the parks as well as the rides. Rides are taken down every 60-90 minutes to undergo a sanitation process and we continually saw Cast Members cleaning common areas of the parks such as hand railings, door handles, park benches, restaurant seating and more. Pro Tip: Thank a Cast Member for all they do. They work HARD to make your experience magical and if you have one that goes above and beyond, give them a shout out on Twitter using the hashtag #castmembercompliment ! Disney does monitor this hashtag and the Cast Member may receive recognition!
11) Relaxation Stations are provided throughout each park. This is an area where you can go sit, socially distanced, and take your mask off for a quick break. You are welcome to bring food and drink into the Relaxation Stations as well. Each park has at least one location that is air conditioned. Locations are as follows:
Magic Kingdom ~ Golden Oak Outpost in Adventureland; Tommorrowland Terrace; Pete's Silly Sideshow in Fantasyland (air conditioned)
Animal Kingdom ~ Pizzafari Restaurant (air conditioned; not currently serving food); Upcountry Landing in Asia
Hollywood Studios ~ Star Wars Launch Bay (both outside and inside; inside is air conditioned)
EPCOT ~ Future World (between Mission Space and Test Track); United Kingdom near Yorkshire County Fish Shop; Akershus (air conditioned; not currently serving food)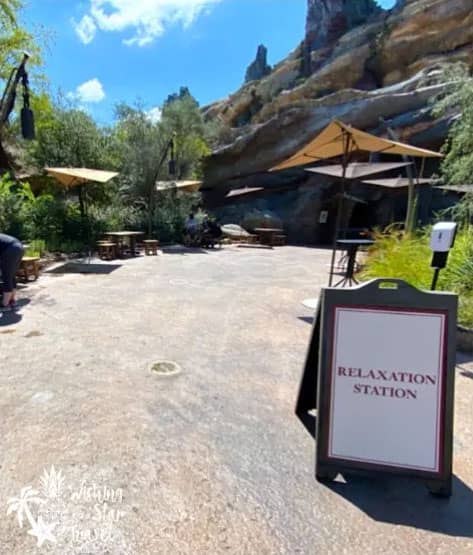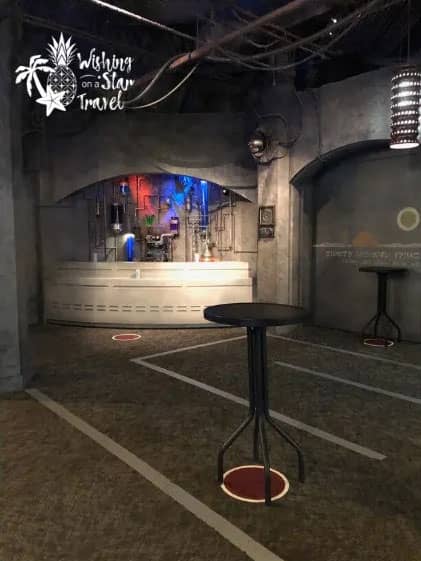 12) Mobile Ordering is required at all Quick Service locations, even if you want something as simple as a bottle of water. Get yourself very familiar with the My Disney Experience app so you understand how to complete mobile ordering. It's really very simple. Simply scan the QR code on your phone camera and the menu for the location will open on your screen. From there, select your meal and all additions and pay via the mobile app. You will be able to monitor the app for where your meal is at in the preparation process and you will be notified once your meal is ready. Please know that you will not be able to enter a Quick Service location until you receive notice that your meal is ready. A Cast Member will be checking your order status at the front door. All meals now come packaged and in a sealed bag for your safety. Pro Tip: Be sure your My Disney Experience app is set up for push notifications in your phone settings. This will make it easier to be notified and eliminates you having to continually check your phone.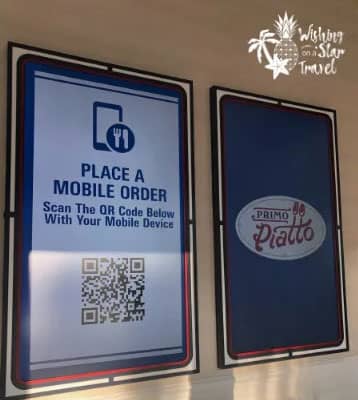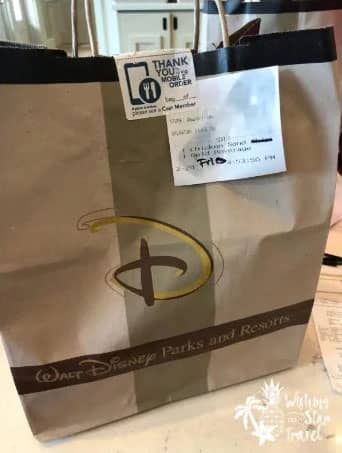 13) Speaking of bottles of water……..we found that many of the park kiosks were still closed which did make it hard to find bottled water when needed. While you can still ask for a free cup of ice water from a Quick Service location, sometimes you just want a bottle to carry with you for when you truly need it. Pro Tip: Bring yourself a refillable water bottle that has a filter in it. This way you can fill it up at the water fountains or rest rooms and be ensured the water is being filtered. Also consider bringing a few snacks in your bag. I find that pretzels and granola bars (I prefer Cliff bars) seem to hold up well and just take the edge off being hungry and will save you some money in the long run!
14) Table Service meals are still available for reservations at Walt Disney World. While many of the character locations are temporarily closed, Topolino's Terrace at Disney's Riviera Resort as well as Garden Grill at EPCOT are still open for you to enjoy! We were lucky enough to score a reservation for breakfast to Topolino's Terrace and I have to say it may be my new favorite character experience! While the characters no longer stop at your table or sign autograph books, they do still come out for a quick dance and walk around the restaurant giving you plenty of opportunity for photographs. Topolino's Terrace even offered a pre-signed autograph card from the characters. While this experience was very different from the traditional character dining experience, I actually enjoyed it even more. Characters came out at least 4-6 times while we dined so we had plenty of opportunity to view them! Pro Tip: All table service locations now require an on-line check in via the My Disney Experience app beginning 15 minutes prior to your reservation time. Upon arrival to the restaurant, simply scan the QR code at the hostess stand and check yourself in for your reservation. In addition, physical menus are gone at this time and have been replaced with paper menus with QR codes. You'll simply scan the QR code and the menu will appear on your My Disney Experience account. A waiter/waitress will take your order at your table. If you truly need a physical menu just ask for one. They will happily provide.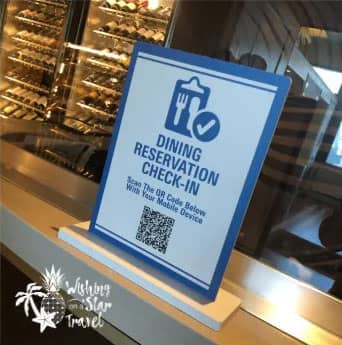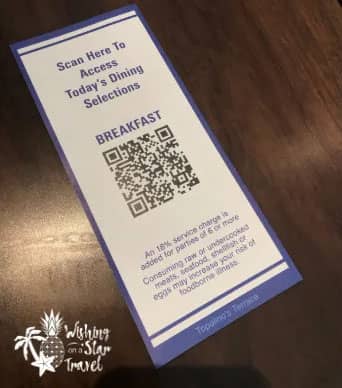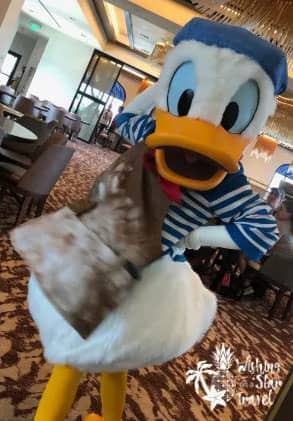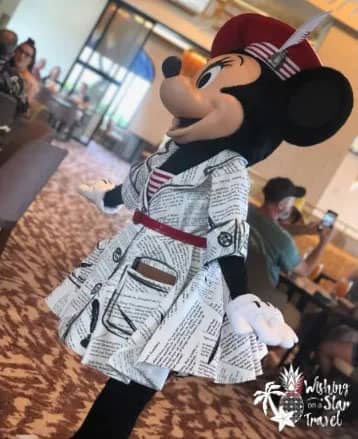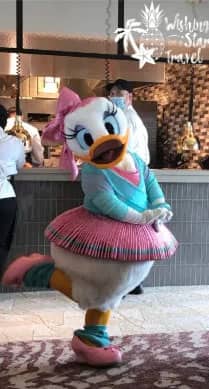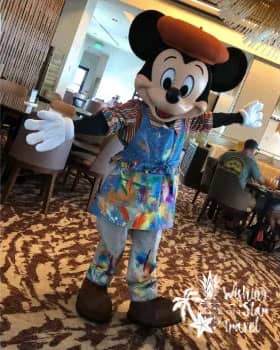 15) Let's talk parades………we know the traditional parades like Festival of Fantasy are temporarily suspend (dagger to my heart, it's my most favorite!), but Disney has replaced these experiences with Character Cavalcades! What's a cavalcade, you ask? It's an unscheduled pop-up parade! We truly did not miss out on any characters this trip because of the cavalcades. Here is what you may find at each park (characters are always subject to change and cavalcades are weather permitting).
MAGIC KINGDOM
Character Cavalcades throughout the day, with Guest-favorite Disney friends appearing along the parade route—which will include:

The Royal Princess Processional
Mickey & Friends Cavalcade
Fantasyland Friends Cavalcade
A Goofy Cavalcade
Tinker Bell & the Lost Treasure

"The Royal Princess Processional" –Several times daily, favorite Disney princesses travel through the streets of Magic Kingdom. Princess Merida leads the way on her steed Angus, followed closely by a gazebo float and crystal castle carrying Cinderella, Tiana, Belle, Jasmine, Snow White, Rapunzel and others.
"Mickey and Friends Cavalcade" – Mickey Mouse, Minnie Mouse and their pals pop up throughout the day, inviting everyone to "Get Their Ears On" as they wave to guests along the park's parade route. Come on, you know you are signing the song………..
Cinderella's Evil Stepsisters – From time to time, guests in Fantasyland may spot the dastardly Anastasia and Drizella and can interact with them from afar while they're perched on a balcony of Cinderella Castle. The Stepsisters are one of my absolute FAVORITE character interactions ~ they are hysterical!
ANIMAL KINGDOM
Character Cruises throughout the day, with Guest-favorite Disney friends appearing in boats around Discovery River—including the following:
Discovery River Character Cruise
Discovery Island Drummers
Donald's Dino Boat Bash!
Mickey & Friends Flotilla
"Donald's Dino Boat Bash!"– Donald Duck, Daisy Duck and Launchpad McQuack wave to guests from their party boat as "Donald's Dino Bash!" moves from DinoLand U.S.A. to Discovery River.
"Discovery River Character Cruise" – Guests can see Timon and Rafiki or Pocahontas with Meeko, who will set sail on the parks' waterways.
Discovery Island Drummers – These high-energy percussionists cruise along Discovery River, entertaining guests on the shore with an energetic beat.
EPCOT
Character Cavalcades throughout the day, featuring favorite Disney friends traveling around World Showcase promenade—including:

Frozen Promenade
Mickey & Friends World Tour
Princess Promenade

"Mickey and Friends World Tour" – As guests travel around World Showcase, they may come upon Mickey Mouse, Minnie Mouse, Pluto and Goofy all out sightseeing and waving to their friends.
"Frozen Promenade" – Queen Anna and Elsa venture into the unknown around World Showcase, journeying from country to country and waving hello to guests along the way.
HOLLYWOOD STUDIOS
Character Cavalcades throughout the day, with favorite Disney friends appearing along Hollywood Boulevard—including:
Disney Junior Stars Motorcade
Mickey & Friends Motorcade
Pixar Motorcade
"Pixar Pals Motorcade" – Some of the biggest stars from Pixar Animation Studios' films arrive on Hollywood Boulevard, from The Incredibles to Toy Story pals and more.
"Disney Junior Stars Motorcade" – Disney Junior stars including Fancy Nancy, Doc McStuffins and Vampirina will cruise down Hollywood Boulevard waving to fans from colorful custom convertibles.
As you can see, there is PLENTY of opportunity to still see your most favorite characters! I didn't feel like we missed out on this experience at all!
Pro Tip: If you are in the park and you suddenly hear the music get very loud, that's a really good indication a cavalcade is about to begin right where you are at!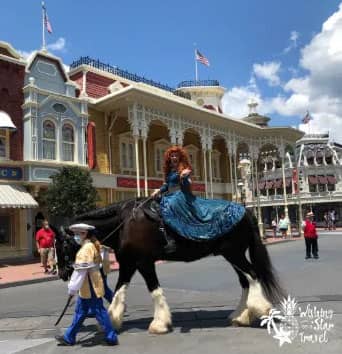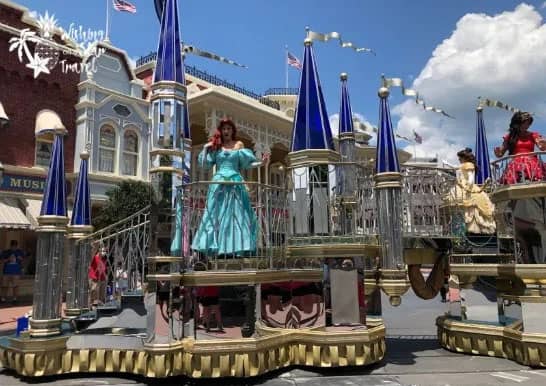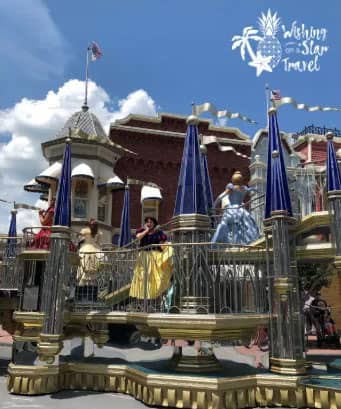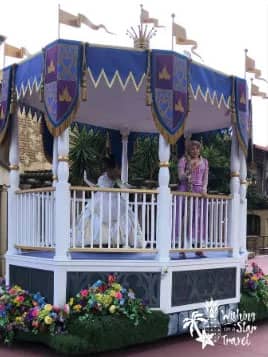 16) Fireworks……….sadly, there are no fireworks shows at this time. This is a temporary suspension and will be brought back in the future. With that, I can honestly say I didn't even miss the fireworks. Sure, they are a great part of the traditional Disney experience, but we were so busy during the day just enjoying the park that I really didn't notice this component being missing. I do love me some Happily Ever After, so I am looking forward to its return, some day soon. But I would not let the temporary suspension of fireworks be the deciding factor on visiting Disney at this time.
17) Speaking of enjoying the parks, if you followed along on our Facebook (www.facebook.com/wishingonastartravel) or Instagram page (@wishingonastartravel) last week, you would have seen my photos showing a pretty empty park. That wasn't creative photography on my part. That truly was the crowd level on those days. It was AMAZING! In 6 hours at Magic Kingdom we rode almost EVERYTHING (only thing we did not get on, by choice, was Space Mountain). We did it ALL and with little to no wait times. If we did have to wait, it wasn't because of long lines, it was because of the ride sanitation process. I mean, have you ever just walked on to Peter Pan's Flight? Probably not! Have you only waited 10 minutes in line for Seven Dwarfs Mine Train? Not without a Fast Pass! It was like being on a VIP tour – almost immediate access to every ride! It was fantastic!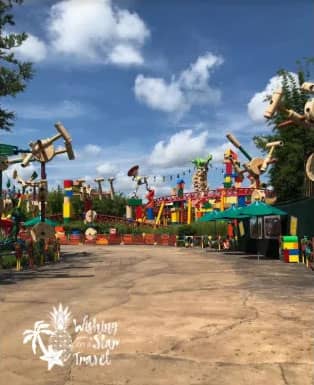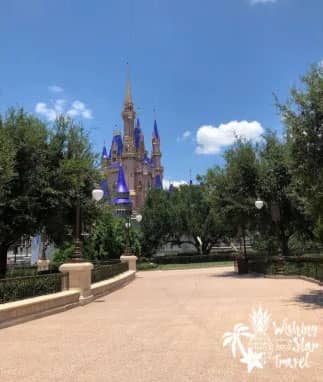 If you've made it this far, THANK YOU! I had a lot of information to share with you and I hope you found it helpful. We truly are your Disney experts. We have agents in the parks at least one time per month, if not more. We experience these new things in order to better serve our guests so that we may make your trip that much more magical! I can honestly say that I felt 100% safe during my entire trip and I felt Disney was always looking out for our safety. I have no complaints about any of the new procedures and felt like my trip was actually enhanced because of them. Kudos to Disney on an EXCELLENT job!
If you are thinking about a Disney trip in 2021, there is truly no better time to book your vacation package. This helps you to lock in the rate, secure your preferred resort and park days and you can do it all for a $200 deposit! We do as much (or as little) of the planning as you would prefer. We know some clients prefer to make their own dining reservations and itineraries – that is perfectly okay! You don't lose any control of your vacation planning by using a travel advisor. If you want our experts to plan your every day, we can do that as well! As an Authorized Disney Vacation Planner with over 1,000 trips to Walt Disney World between our agents, we truly are your experts and WE KNOW DISNEY!
Ready to make your travel dreams a reality? Visit our website at www.www.wishingonastartravel.com to find your perfect match agent or complete our inquiry form at the following link for more information: https://bit.ly/2NpKWet