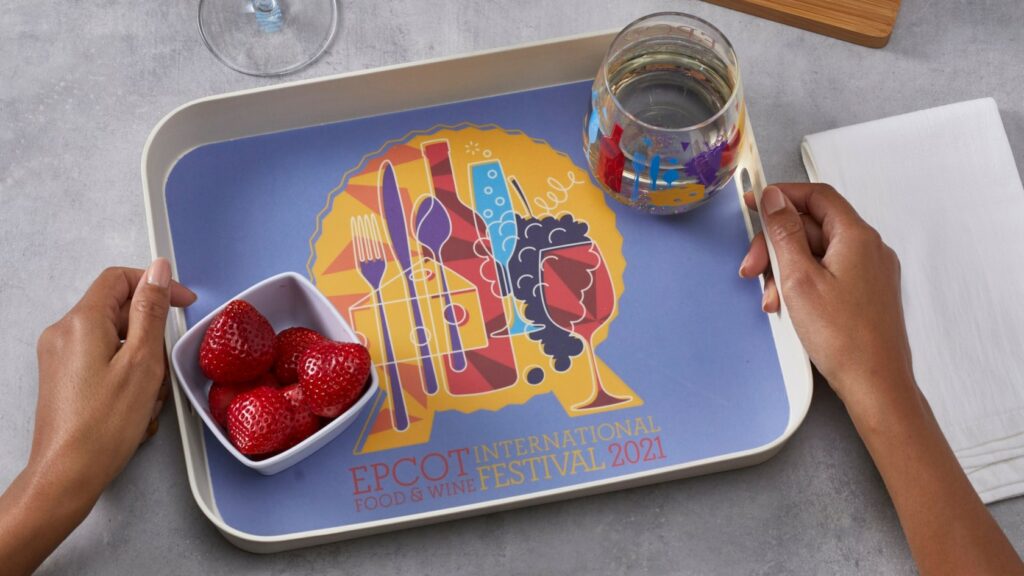 Epcot's International Food & Wine Festival is underway! This year, you have more time than ever before to experience delicious dishes from around the world, sip on unique cocktails, and enjoy live entertainment. The festival runs from July 15th to November 20th, with select experiences and marketplaces starting on October 1st—just in time for Walt Disney World's 50th-anniversary celebration. Here's what you can expect from this year's festival!
Wine & dine
The main event of the Food & Wine Festival is strolling around the park, sampling dishes from the plethora of global marketplaces (food kiosks) that dot the World Showcase lagoon and Future World. Each booth has a unique theme and offers flavors of a particular destination or similar taste. There are so many dishes to choose from, and if you've never been before, it's best to plan out which menu items you want to try! See a full menu from the kiosks, or grab a marketplace map once you get to the parks.
New global marketplaces for 2021
There are several new marketplaces for 2021! Check out Brew-Wing at Epcot Experience, featuring chicken wings, flatbreads, and several local beers and hard ciders. The Noodle Exchange marketplace offers delectable noodle dishes from the Far East, including Spicy Vietnamese Beef Pho and Coconut Curry Rice Noodles. The Tangierine Cafe: Flavors of the Medina is a Morrocan-themed pavilion with traditional dishes like fried falafel, kebabs, and a pistachio cake topped with an edible Morrocan-inspired mosaic design.
Don't miss marketplaces
Need some Instagram-worthy treats to fill your feed? Check out the Donut Box! The Candy Jar Donut is a chocolate-glazed donut topped with M&Ms, Snickers, and Twix. Spice lovers will adore the sriracha-glazed donut, which you can even get with a piece of fried chicken on top! The kiosk also features an Imperial coffee milk stout. Earth Eats, a plant-based marketplace sponsored by the Impossilbe™ brand, offers a selection of gluten-free, vegetarian, and vegan dishes, including the famous Impossible Burger slider and a three-bean chili.
Food and Wine entertainment
Live entertainment is back at Epcot! Local Central Florida bands take to the stage Friday through Monday evenings at the American Gardens Bandstand, across from the American Pavilion. There are also ongoing entertainment options like the JAMMin' Chefs, who appear on the Canadian stage, a Mariachi band, and the Voices of Liberty. In addition, children of all ages will enjoy waving to their favorite characters during princess and character cavalcades, which happen throughout the day at unannounced times.
The live entertainment list only shows guests until the end of September, so we may expect even more artists to appear once the second wave of the festival begins on October 1st. You'll also get to experience Remy's Ratatouille Adventure, an all-new attraction at the France pavilion, if you visit after October 1st. This is also the start date for the brand new nighttime spectacular, HarmoniUS!
Other experiences
There's fun for the whole family at the Epcot International Food and Wine Festival! Play a game of hide and "squeak" with Remy as you search for Remy statues throughout the World Showcase. Purchase a map and get a special prize at select merchandise locations when you find them all. Cheese lovers will enjoy a scavenger hunt of their own with Emile's Fromage Montage, which challenges guests to sample five distinct cheese dishes from select global marketplaces. Collect the stamps and bring your map to Shimmering Sips for a prize.
Also, in-person races are back! Celebrate with the 2021 Disney Wine and Dine half-marathon weekend, November 4th through 7th. Experience villain-themed events and a post-race party for runners and guests. You can learn more about the races and register here.
Planning your trip
The Food and Wine Festival menu is filled with tapas-style small plates, so you'll have room to sample many different types of dishes. With so much to explore, dining at Food and Wine may get very expensive, very quickly. That's why we suggest loading a predetermined amount onto Disney gift cards (which are available as wristlets and come with Food and Wine exclusive designs) to pay for your samplings across the world. Of course, you can add more funds to your cards, but you'll know how much you're spending when you do.
Be sure to check out this year's exclusive merchandise, featuring food and wine logo kitchen essentials and more from Corkcircle. There are also Beauty and the Beast kitchen collections and Figment-themed merchandise for Annual Passholders.
All guests must make a reservation to visit the park before arriving. Before purchasing your tickets, check theme park availability for your desired dates using Disney's Park Pass Reservation system. Then, buy your tickets and make your reservations as soon as possible. When you work with an Authorized Disney Vacation Planner like Wishing On A Star Travel ®, we'll take care of everything for you!
Travel around the world without leaving Epcot
This year's International Food & Wine Festival is a can't-miss experience. There's still time to book your trip to experience all the festival has to offer—just in time for the 50th-anniversary celebration! Contact one of our travel agents at Wishing on a Star Travel to book your trip. All it takes is a $200 refundable deposit! Call us at 1-888-678-TRIP or click to get a quote.