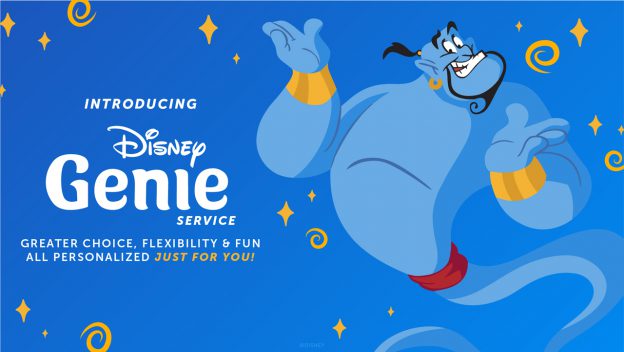 With the tagline, "You'll never have a friend like this," Disney's new Genie, Genie+, and Lightning Lane services will change how you plan your trips and experience attractions while visiting Walt Disney World and Disneyland. These services will replace the retired FastPass program in the fall. Many questions are swirling about this new program's rollout, and our Authorized Disney Vacation Planners at Wishing On A Star Travel ® are here to demystify what it all means—no magic lamp needed! 
What are the Genie and Genie + services?
Disney Genie and Genie+ are individual services that offer different, flexible options for guests but share a similar title. Disney Genie is an electronic planning tool located inside the My Disney Experience and Disneyland apps. Genie+, on the other hand, is a premium paid service that allows guests shortened wait times on select attractions. Here's what you need to know about each service.
Disney Genie
The Disney Genie service is complimentary and available to all guests. Disney Genie promises to offer more robust planning options, allowing guests to design their perfect Disney day. Plug in your vacation information, and Disney Genie will give you a daily itinerary and real-time suggestions while visiting the parks, such as nearby food or can't-miss experiences. One feature we're excited about is Genie's ability to analyze current and forecasted attraction wait times and suggest the best time to get in line. In addition, there will be a live chat feature where guests can ask questions like, "Is the monorail running today?" Then, Genie will provide you with an instant answer.
Disney Genie+
Genie+ will replace the retired FastPass+ program at Walt Disney World and MaxPass at Disneyland. Genie+ allows guests to get fast-tracked line access to 40 attractions at Walt Disney World and 15 attractions at Disneyland. Guests can add on the Genie+ service for $15 per ticket, per day at Walt Disney World, and $20 at Disneyland. Disneyland's Genie+ service also includes unlimited photo downloads from PhotoPass. The service also has several extras, including augmented-reality photo filters and interactive atmosphere music based on your location within the park. The service includes new and original attractions, such as the Haunted Mansion and Millennium Falcon: Smugglers Run. 
Genie+ isn't available for every attraction. Some of the most popular rides at the parks may not be a part of the service. As discussed below, guests wishing to get the quickest access to the most popular attractions will want to consider purchasing a Lightning Lane pass.
What is Lightning Lane?
Lightning Lane is the new name given to the old FastPass queue lines. When you purchase Genie+, you gain access to the Lightning Lane entrance of these attractions. However, some of the most popular attractions (like Seven Dwarfs Mine Train and Rise of the Resistance) aren't included in the Genie+ service. Front-of-the-line access to these attractions will require an additional fee. Lightning Lane is best for guests who really want to ride a particular attraction that typically has long lines or a virtual boarding queue. Every guest can purchase Lightning Lane passes for two attractions in one day. The cost for Lightning Lane passes wasn't announced yet, but the price will fluctuate based on park attendance, season, and time of day. You do not need to purchase Genie+ to buy an individual Lightning Lane pass.
Planning your vacation using Genie, Genie+, and Lightning Lane
Guests staying at a Disney Resort can make their first Genie+ selection at 7 am each day. Guests will pick a time to visit the attraction and will enter through the Lightning Lane entrance. After the initial reservation, guests can continue to reserve one attraction at a time once they've checked into their current reservation. Off-site guests can make Genie+ selections once they arrive at the park. A la carte Lightning Lane reservations can be made day-of and used at all the theme parks, which is beneficial when park-hopping.
Guests will find that Disney Genie will be most helpful for day-of planning while at the theme parks, taking the guesswork out of what to do next. The Genie service will make suggestions in real-time, accounting for things like time of day and weather. Another benefit is that Disney Genie may cut down on time spent waiting in line, as it will suggest the best time to ride based on your personal itinerary and projected wait times. There will also be mobile ordering integrations, so you can select meal preferences and pay all within the My Disney Experience app.
If you do not wish to add on these optional services, guests can still experience attractions by using standby and virtual queues as they have in the past.
Authorized Disney Vacation Planners at your service
The recent announcement about these new programs has left Disney fans with mixed emotions and a few unanswered questions. As Authorized Disney Vacation Planners, we know Disney and will help guide you through these changes. We also visit the parks regularly and can offer accurate tips and tricks along the way.
"By working with one of our travel planners, we will get to know you and your family, which will allow us to plan your itinerary based on your preferences and our expertise. We will use our years of training and first-hand experience to curate the most magical vacation for you and your family!" said our travel agency owner, Jodie Sontag.
More information will be available about these services as they gear up to launch in the fall, just in time for Walt Disney World's 50th Anniversary. Packages are booking up quickly for this 18-month long extravaganza, so get a quote to be part of the magic! Stay tuned for updates on these programs and more by joining our email list. Have questions? Call us at 1-888-678-TRIP to speak with an agent.