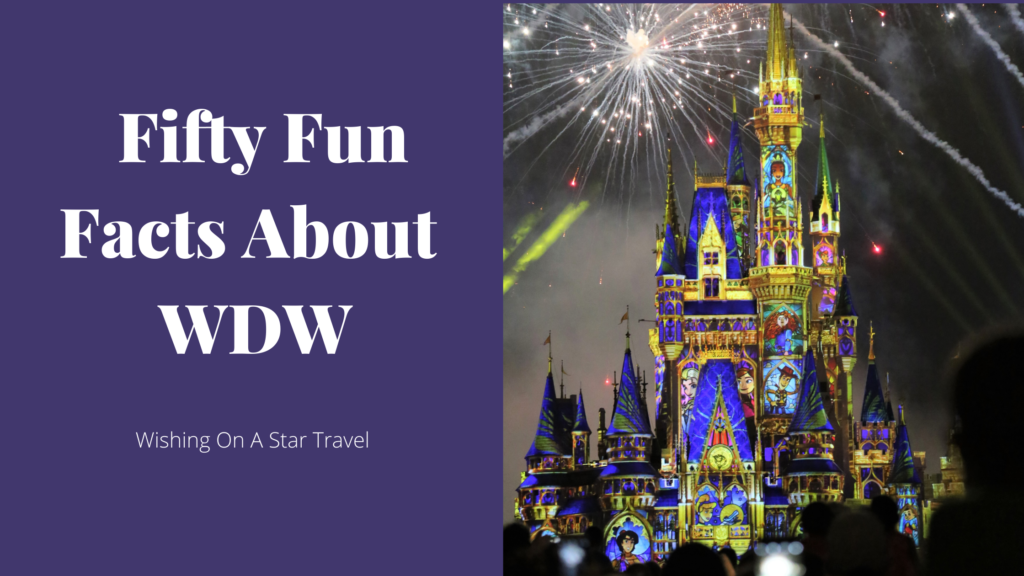 In honor of Walt Disney World's 50th anniversary, we're sharing some fun, interesting, and unknown facts about the Most Magical Place On Earth. How many do you know?
1. No bricks were laid when constructing Cinderella Castle. It's made of concrete, steel, fiberglass, and plastic shingles.
2. What happens after the parks close at night? Construction crews, custodians, and landscapers help maintain the parks to keep up their squeaky clean reputation.
3. The Utilidor is a system of tunnels under the Magic Kingdom that allows Cast Members to report to their work locations without traveling through the park. The reason is that Walt didn't want to break the magic by having Cast dressed in off-themed attire travel through non-themed lands, such as a Cast Member in western attire from Frontierland having to walk through Tomorrowland to report for duty.
4. At 30,500 acres, Walt Disney World resort is approximately the size of San Fransisco.
5. Walt Disney World has its own fire department. The Reedy Creek Fire and Rescue Department responds to calls across WDW property.
6. Pre-pandemic, an average of 17.5 million people visited Magic Kingdom annually, followed by Epcot with 11 million. Disney's Hollywood Studios and Disney's Animal Kingdom averaged 9.9 million visitors.
7. Cinderella Castle is 189 feet tall.
8. The Spaceship Earth ball at Epcot weighs 16 million pounds.
9. When Magic Kingdom opened on October 1, 1971, admission cost $3.50. Calculating for inflation, it would cost $20.86 today.
10. Space Mountain was the world's first attraction to use computer controls.
11. Pop Century Resort has the most guest rooms of any Walt Disney World resort.
12. You are never more than 32 steps away from a trash can when you visit the parks. Be sure to count next time you're there!
13. The Tree of Life at Disney's Animal Kingdom is 145 feet tall and includes 300 carved animals on its facade.
14. You could fit the entire property of Disneyland into the parking lot of Magic Kingdom at WDW—and still have enough room to park 50 cars.
15. It would take you four hours to ride all 54 ride simulations at Star Tours at Disney's Hollywood Studios.
16. There are four golf courses and two mini-golf courses on Walt Disney World property.
17. Minnie Mouse wears 100 different outfits while greeting guests throughout Disney property.
18. It's estimated that park guests consume 1.8 million pounds of Turkey Legs every year.
19. Over 180 fish, crustaceans, mermaids, and human characters appear throughout the Under The Sea: Journey of the Little Mermaid attraction.
20. There are over 1,000 hidden Mickeys located throughout Walt Disney World.
21. At the Rock 'n' Roller Coaster at Hollywood Studios, you are propelled forward from 0 to 60 in 2.8 seconds.
22. To become a "Galatic Hero" on Buzz Lightyear's Space Ranger Spin, you must score between 900,000 and 999,999 points.
23. The design of Main Street, U.S.A. is based on Walt's hometown of Marceline, Missouri.
24. Walt Disney World has donated 8,000 trips to the Make-A-Wish Foundation.
25. It's estimated that over 1.6 million pairs of sunglasses have been placed in lost and found locations at the theme parks since the resort opened in 1971.
26. All buildings inside the WDW theme parks are less than 199 feet tall, keeping them short of the FAA's requirement for red blinking lights on buildings over 200 feet tall.
27. There are 2,000 animals who call Disney's Animal Kingdom home.
28. There are over 700,000 square feet of conference, convention, and meeting spaces on Disney World property.
29. The tallest structure on Walt Disney World property is the Dolphin Hotel, measuring 257 feet high.
30. A fairytale wedding inside the Magic Kingdom will set a couple back at least $30,000 (that's just the ceremony fee).
31. Ever wonder why there aren't any public bathrooms in Liberty Square? It's all about theming! There wasn't indoor plumbing in colonial New England, so they kept that theming in place.
…The brown, river-like pavement that runs through Liberty Square represents how people in colonial times disposed of their waste….
32. While there are lots of hidden Mickeys throughout the theme parks, did you know there are several hidden Donalds as well? Look for a hidden Donald the next time you're on the Haunted Mansion!
33. The aquarium at The Seas pavilion at Epcot is the 2nd largest in the U.S. It's right behind the Georgia Aquarium in Atlanta and holds about 5.7 million gallons of water.
34. The windows along Main Street U.S.A. honor Cast Members, Imagineers, and other notable figures in Disney history.
35. Over one million pieces of glass, jewels, and bits of silver and gold make up the mosaics in the breezeway through Cinderella Castle, telling Cinderella's story.
36. The island in the middle of The Seven Seas Lagoon was originally called The Treasure Island Nature Preserve and was open to guests. The island included a large aviary and a variety of wildlife like eagles, swans, and deer.
37. The Carousel of Progress is the longest-running theatrical production in American history.
38. Visit the Cinderella Fountain in Fantasyland just behind the castle, and from an adult's perspective, it looks like Cinderella is looking down at a bird. However, if you kneel and get down to a child's level, you'll see Cinderella smiling at you with a crown perfectly placed on her head.
39. Disney World does not sell chewing gum—it lessens the possibility of gum getting stuck on guests' shoes. Cast Members are not allowed to chew gum either.
40. Only 7,000 acres of the 30,000 acres purchased for "The Florida Project" have been developed. Another 7,000 acres are a part of a conservation district and will never be developed.
41. The pool at Stormalong Bay at Disney's Beach Club resort has sand at the bottom, giving guests the feeling of being at the beach, even an hour and a half away.
42. Disney World has dedicated over 290 acres of property for housing solar panels. The first solar farm is near Epcot, and the other opened off State Road 429 in part of Disney's conservation area. In 2019, reports indicated that 25% of the resort ran on solar power.
43. Seven Seas Lagoon is an artificial lake. Crews moved seven million cubic yards of dirt and sand to carve out room for the lagoon.
44. Since Florida is the lightning capital of the U.S., several lightning rods are scattered throughout the parks. One of the most prominent lightning rods is at the Crossroads gift shop at Hollywood Studios, right after the main entrance. The tower features a silver globe with Mickey standing on top, and his right ear is made out of copper.
45. The cargo ship stationed above Docking Bay 7 inside Galaxy's Edge at Hollywood Studios has three numbers on the outside: 77, 80, and 83. These numbers represent the release years of the original Star Wars films.
46. Disney World had 26 attractions on its opening day in 1971. There are now 49—and the 50th opened on WDW's 50th anniversary.
47. Though Mickey and Minnie are the heart and soul of Walt Disney World, they didn't have their own ride dedicated to them until Mickey & Minnie's Runaway Railway opened in 2020.
48. Whenever a guest throws a coin into a fountain or waterway (like inside It's a Small World or at Cinderella's Wishing Well), the coins are collected and donated to charity. In 2020 alone, the resort donated over $20,000 in coins to the Coalition for the Homeless of Central Florida.
49. It cost $400 million to construct Disney World when it first opened in 1971. Today, construction costs a total of $3.5 billion. The resort continues to grow, using one of Walt's famous phrases as inspiration: "keep moving forward."
50. In 2019, the Magic Kingdom ranked as the most visited theme park in the entire world, according to Travel + Leisure. In that year, the park had 20 million visitors.
Plan your next WDW trip with Wishing on a Star Travel
Our Authorized Disney Vacation Planners are ready to help you experience Walt Disney World during the 18 month-long celebration honoring WDW's 50th anniversary. There's still plenty of time to plan your trip, and our travel agents can help! Get a quote today to get started. Ready to book your trip? Call us at 1-888-678-TRIP to get started. All you need is a $200 refundable deposit to secure your dates!