What It's like and Is It Worth It?
Sandals has been referenced in various TV shows and movies, from sitcoms like The Office to romantic comedies like License to Wed. Even with all the pop-culture references, there is a lot of mystery surrounding a Sandals vacation. With 16 locations throughout the Caribbean, figuring out where to plan your trip can feel overwhelming. Below, we share everything you should know about booking a Sandals vacation.
Ready to reserve your Sandals or other all-inclusive vacation? Wishing on a Star Travel can help. Call us at 1-888-678-TRIP to learn more!
What Makes Sandals Different Than Other All-Inclusive Resorts?
Like many other all-inclusive resorts, Sandals resorts offer a variety of dining, entertainment, and activity options right on-site, so there's no reason to leave the resort during your entire vacation. Sandals provides an extensive range of included amenities compared to other all-inclusive resorts, which sometimes charge for premium alcohol, specialty restaurants, and excursions. Sandals includes all meals, alcohol, and most activities for one package price. Many couples choose to leave their purses and wallets locked in their rooms for the duration of their vacations—you won't need them while walking around the resort!
Are Sandals Resorts Just for Couples?
Yes. Sandals resorts are designed for "couples in love." Sandals caters to couples looking for a secluded, quiet, luxurious getaway with all the bells and whistles, including breathtaking ocean views, swim-up bars, nightly entertainment, infinity pools, soaking tubs, private butler services, and much more. Sandals is a popular vacation destination for couples or spouses celebrating milestone anniversaries, engagements, weddings, or honeymoons. Each room accommodates two guests. Most rooms include a single, king-sized bed.
Families with children, single adults, and groups of friends are encouraged to stay at Beaches®, Sandals' sister line of family-friendly resorts.
Sandals Locations
Sandals resorts are found throughout the Caribbean on some of the best beaches in the world. Sandals has 16 resorts on these seven Caribbean islands:
Antigua
Bahamas
Barbados
Curacao
Grenada
Jamaica
St. Lucia
Some Sandals resorts (particularly in Jamaica, which is home to six total Sandals resorts) are close enough that you could walk or hop on a shuttle to the next one. When you stay at one Sandals resort, you also have access to the amenities at other nearby Sandals resorts.
Accommodations
Sandals offers a wide range of accommodations with luxury amenities, from private balconies, soaking tubs, beachfront villas, and swim-up suites. Rooms are scattered throughout the resort in several low-rise buildings, adding to the seclusion and luxuriousness of the resort. There are three accommodation categories, which are all referred to as "suites:"
Luxury
Luxury Suites are the least expensive room option at any Sandals resort. These rooms may or may not include a private balcony. Mainly, these rooms offer garden or pool views. They are most comparable to a standard hotel room.
Club Level
Club Level suites are the next step in added luxury. Club Level offers free room service daily between 7 am and 10 pm. Imagine eating breakfast in bed every day of your vacation! Club Level accommodations include an exclusive concierge who will help you check in at the private lounge (so you don't have to wait in the main lobby), book dinner reservations, spa treatments, tours, or help you rent a cabana. You'll also get a private resort tour upon arrival. One of the primary features of Club Level rooms is the access to the Club Lounge, which serves tea, coffee, and snacks throughout the day. There is also a flat-screen TV, games, and books.
Butler Elite
This is the top-tier accommodation level at Sandals. Butler Elite rooms offer the best accommodations, amenities, and views. When you book a Butler Elite room, you'll have a personal, expertly-trained butler at your service for your entire trip. Upon arrival, you'll be greeted with cocktails, champagne, scented hand towels, and snacks. Your butler will escort you to your room, where you'll check-in at your suite. You'll also receive a cell phone to reach your butler any time you want during your trip.
Love Nest Suites®
Love Nest Suites are Butler Elite Suites that offer more privacy and unique locations throughout the resort. These suites include all the amenities of the Butler Elite suites, with exceptional accommodations like Over-the-Water bungalows, Millionaire Bluff Top Suites (located on the top floor for unobstructed ocean views, and SkyPool Suites (which include private infinity plunge pools).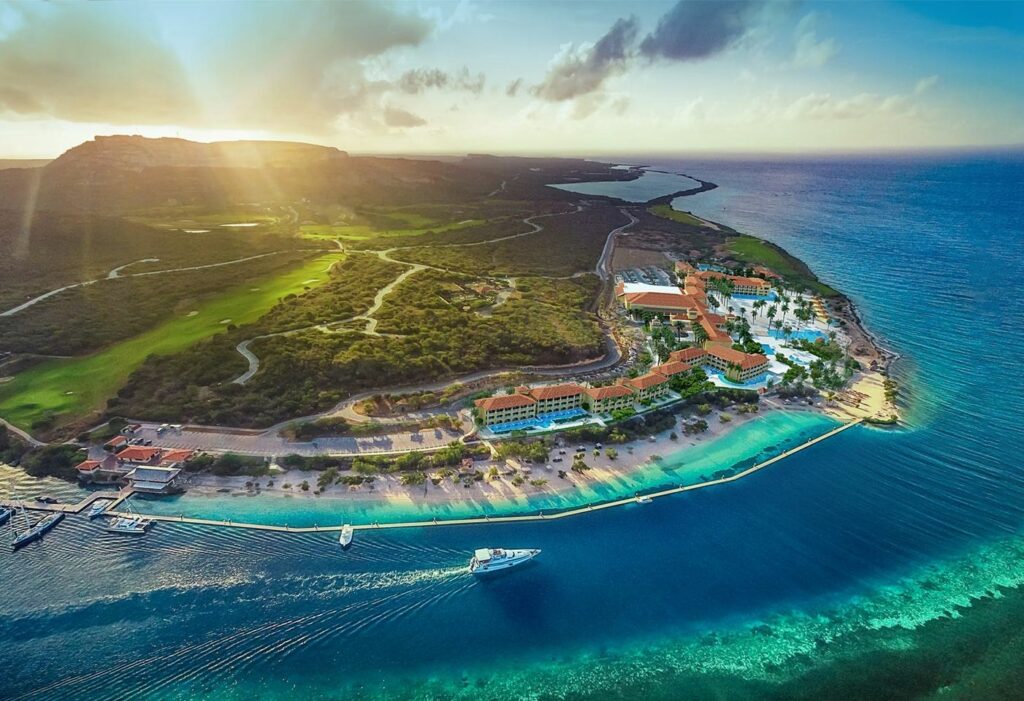 Included Amenities
Sandals resorts are genuinely all-inclusive and include a variety of amenities, such as:
Airport transfers
A unique feature compared to most all-inclusive resorts, Sandals includes transportation to and from the airport for all guests. Guests staying in Luxury suites can access an airport shuttle to take them two and from the resort. Club Level and Butler Elite rooms offer private transportation in a luxury vehicle like a BMW or Rolls Royce.
Dining
All meals, snacks, and drinks are included at Sandals. Every resort has several dining locations on-site, ranging from casual bars and lounges to upscale, gourmet restaurants. Dining at all locations is included, although reservations may be required for some restaurants. Every room also has a complimentary mini-bar that is restocked daily. The mini bar may also include premium liquors, depending on your accommodation type.
Activities
Many of the on-location activities are included with your Sandals stay. Watersport equipment like kayaks, paddleboards, and snorkeling masks/fins are included. Scuba diving is also included (up to two tanks per day) for certified divers—something that is unique to Sandals and Beaches resorts. Sports courts like tennis courts, beach volleyball, and golf are also available at select resorts. There is live entertainment throughout the resort each night, whether it's a DJ playing the latest dance hits or the relaxing sounds of a live piano player while you enjoy an after-dinner cocktail. Whatever you're in the mood for, there's something to do at Sandals!
What's NOT included?
There are just a few amenities that require an additional fee at Sandals. These include spa services, some off-resort island excursions, cabana rentals, and golf caddies (which are necessary at Sandals' golf courses).
Special Events at Sandals
Sandals is one of the leading destination wedding locations in the Caribbean. They offer a variety of packages to plan your perfect day. Your wedding ceremony is free if you book three nights at a Sandals resort.
Did you know we can help you plan and book your destination wedding travel accommodations? Reach out to our Destination Wedding Specialist here!
Booking Your Sandals Vacation
In addition to planning theme park vacations, Wishing On a Star Travel can book your Sandals vacation and other all-inclusive vacation destinations! Get the all-inclusive experience right from the start of your vacation by having one of our travel agents book your stay for you. With such a wide range of resorts, accommodations, and amenities, let our travel experts at Wishing On A Star Travel ® be your guide to a trip of a lifetime! Get a quote for your trip here.