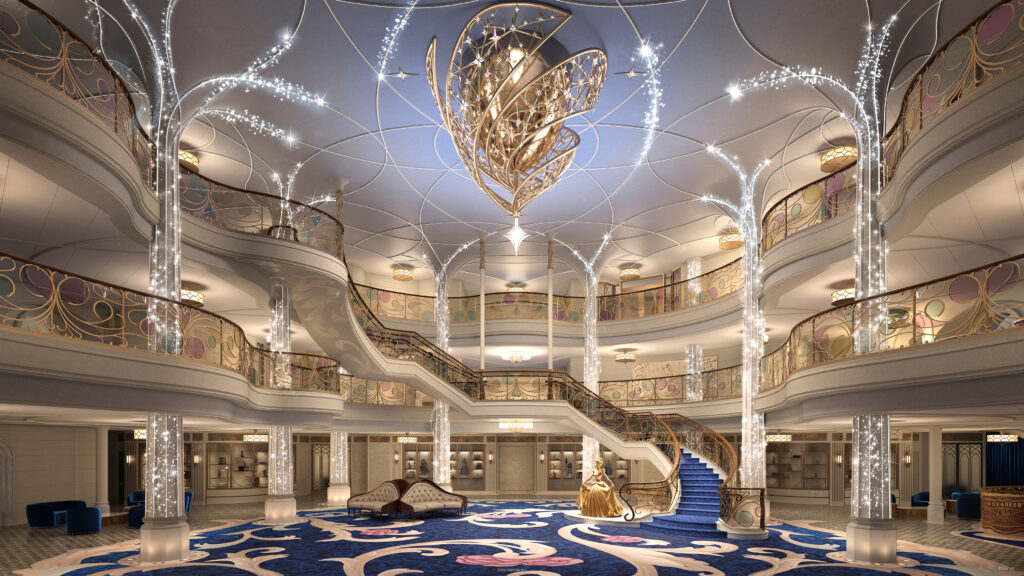 Disney Cruise Line's newest cruise ship, the Disney Wish, is built on the foundation of enchantment, dreams, and —of course—wishes! The fifth ship in the Disney Cruise Line fleet invites guests into awe-inspiring stories, elegantly appropriated accommodations, immersive entertainment, and dining options beyond compare. Here's a preview of all the fantastic elements of the Disney Wish!
Dining
There is no chance you will go hungry aboard the Disney Wish. There is something for everyone with casual eateries, luxurious adult-only venues, and interactive family experiences.
Family restaurants
With Disney Cruise Line's notable rotational dining, every guest has the chance to experience each sit-down family restaurant onboard. On embarkation day, guests will receive a personalized itinerary with scheduled dinners at each restaurant during the cruise. On the Disney Wish, the three new rotational dining locations invite families to explore some of Disney's most popular character worlds while enjoying a meal.
First up is a trip to Arendelle with a theater-in-the-round-style dining experience featuring our favorite Frozen friends: Elsa, Anna, Kristoff, and Olaf. Diners take part in Anna And Kristoff's engagement party, where they'll dine on Norwegian-style cuisine and be entertained by musical performances by Elsa, Olaf, and Arendelle natives.
Avengers: Quantum Encounter encourages the next generation of superheroes to assemble for their next mission along with Ant-Man, The Wasp, and other Marvel heroes. Each table will feature a Quantum Core, with the ability to shrink and grow objects. If necessary, guests may be called to help the Marvel heroes on their latest mission.
Elegant and refined, 1923 is a brand-new concept that celebrates the golden age of animation and Walt Disney himself with sketches and drawings scattered throughout the restaurant.
Bars and lounges
Star Wars: Hyperspace is the first Star Wars-themed eatery on a Disney Cruise ship. The luxury, adult-only lounge offers cocktails and appetizers aboard a first-class starship as you take in stunning views of the galaxy. Other notable lounges include Nightingales, inspired by the "Sing Sweet Nightingale" scene in Cinderella. This piano bar will feature bubbly drinks and rose-gold decor. The Bayou will take you down to New Orleans for a hoppin' good time modeled after the Princess and the Frog. Fireflies light the way overhead as you snack on authentic beignets, specialty coffee, and cocktails.
Other dining options
There will be a wide range of quick-service and casual dining options at Mickey and Friends Festival of Foods (featuring counter-service meals for Mexican, BBQ, pizza, and more) and Marceline Market, the Wish's main dining hall. There are also two adult-only, gourmet dining options modeled after Beauty and the Beast: Enchanté and The Rose. Palo Steakhouse, a returning favorite for the Disney Cruise Line, will also be on board.
Entertainment
Disney's reputation for world-class entertainment won't disappoint guests on the Disney Wish, with new and innovative experiences the entire family will enjoy.
Disney Uncharted Adventure is a new, AI treasure-hunt experience where guests use their smartphones as "enchanted eyeglasses" to help find fragments of a broken Wishing Star. Beloved Disney characters, like Nemo, Moana, Peter Pan, and Princess Tiana, will help searchers with their quest.
Broadway-style productions will come to life nightly at the Walt Disney Theatre, designed with elements from the Disney classic Fantasia in mind. There will be an all-new adaptation of The Little Mermaid (written exclusively for the Disney Wish) and the returning Aladdin- A Musical Spectacular.
Live entertainment abounds throughout your cruise days, from an embarkation celebration with Disney pals to nightly fireworks. Live music will ring out throughout the various bars and lounges on the ship and at Luna, a family-friendly entertainment venue. You can also view first-run Disney movies at two movie theaters on board.
Attractions & recreation
The Aquamouse is a first-of-its-kind at sea attraction. The water coaster will have cruisers twisting, turning, and blasting through 760 feet of water tubes around the ship's top deck. There are ten pools scattered throughout the upper decks, including adult-only areas. In addition, splash away at other water play areas, and a Toy Story-themed splash zone.
Whether you have a Marvel fan, future Jedi, or princess in your family, there is an area where kids can explore and use their imaginations on the Disney Wish. The Marvel Superhero Academy allows heroes to train with their favorite Marvel characters. Star Wars: Cargo Bay will give future jedis the unique opportunity to help Rey and Chewbacca care for some of the galaxy's most interesting creatures. Inspiring Imagineers can develop their skills at the Imagineering Lab, where they can design (and ride) a roller coaster and get a behind-the-scenes look at Disney Imagineering. Fairytale Hall welcomes princesses at heart into Rapunzel's art studio, Belle's library, and Elsa and Anna's Sommerhus.
Teens and Tweens will also have dedicated lounges and play areas to relax, play games, and watch movies. There are even places for children from six months to three years old.
Accommodations
There are over 1,250 staterooms aboard the Disney Wish, many of them with ocean views and private verandahs. Most staterooms sleep up to four guests, with suites and concierge-level rooms that can sleep up to eight people. Staterooms will follow the same four categories as other Disney Cruise line ships: Concierge, Verandah, Ocean View, and Inside rooms. Concierge rooms offer a supreme level of service and the most spacious and luxurious royal suites, including the Wish Tower Suite, a two-story room located inside one of the ship's iconic funnels. Verandah rooms include a private patio and a seating area. Oceanview rooms are located around the exterior walls of the ship and have a porthole view. Inside rooms line the ship's interior.
Book your voyage on the Disney Wish
The Wish's maiden voyage sets sail in July 2022. Reservations are available through May 2023. The Wish has three and four-night cruises sailing to the Bahamas and Castaway Cay from Port Canaveral. With so many stateroom options, dining experiences, and excursions to choose from, it can be easy to feel overwhelmed. Let Wishing On A Star Travel ® make your plans—at no cost to you! Get a quote for your Disney Cruise to get started. 
Want to stay up to date on the latest travel news? Sign up for our email list!