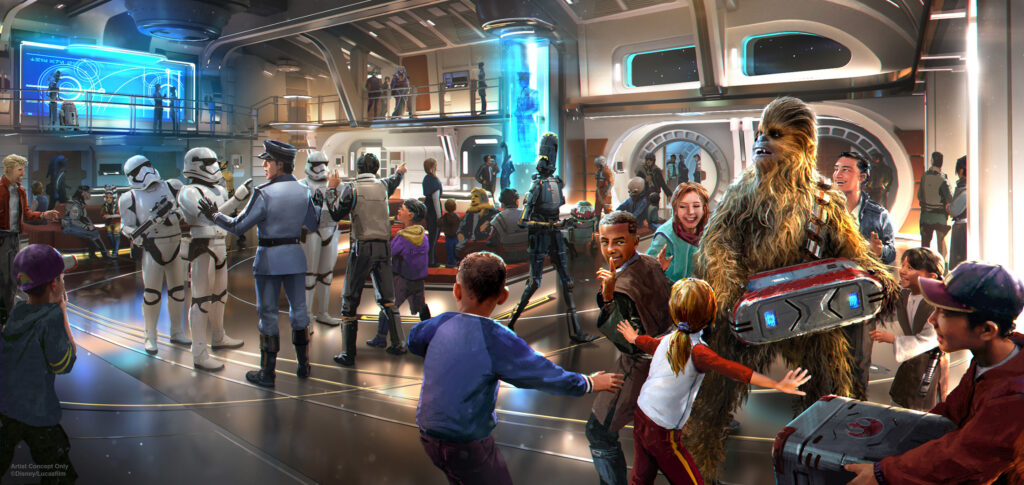 Cue the fanfare!! A galaxy far, far away is finally here! How is this possible? It's all a part of Disney's newest resort, Star Wars: Galactic Starcruiser, which is set to open this spring. This resort is out-of-this-world and a dream come true for any true Jedi. While a lot remains unknown about what the experience will be like, we discuss what we do know about this once-in-a-lifetime experience below.
About Star Wars: Galactic Starcruiser
The Galactic Starcruiser is Walt Disney World's newest resort property that will "launch" in March 2022. When guests arrive at the resort's "terminal," they will be transported to a launch pod to dock with a starcruiser (think galactic cruise ship) called the Halcyon. Guests will then embark on an all-inclusive style two-day, two-night "voyage" aboard the starcruiser, where they will meet some of the most beloved characters from the Star Wars series and become a character within the story as well. The voyage even includes a planetary excursion to the planet Batuu!
Staying aboard the Galactic Starcruiser
The Halcyon starcruiser is known for its superb dining options, world-class service, and excursions to unique destinations such as the Outer Rim and the Core Worlds. The starcruiser is equipped with spacious cabins and familiar earthly amenities like in-cabin TVs. There is also live entertainment and a galactic gala during every voyage. The starcruiser even has defensive capabilities such as hyperdrive, defensive shields, and turbolasers, but the Chandrila Star Line promises they hardly ever get used.
There are 100 cabins on board, ranging from Standard to Grand Captain suites. A standard cabin sleeps four to five guests and includes a space-view window, a queen bed, two "berths" (bunk beds) and a pull-down wall bed. Suites also sleep four to five guests, with a seating area and two space-view windows. The biggest accommodations onboard are the Grand Captain suites, which are two-bedroom cabins that sleep up to eight guests. The room has three space-view windows, two bedrooms, two bathrooms, a seating area, and a bar area. The room includes two queen-sized beds, two berths, and two wall pull-down beds.
Dining at Galactic Starcruiser
Your stay aboard the Galactic Starcruiser includes two breakfasts, two lunches, two dinners, and one voucher for a quick-service meal during your excursion to Batuu (and other select locations at Disney's Hollywood Studios). The menus include out-of-this-world dishes that you will need to see to believe. Seated dining occurs two times every evening in the Crown of Corellia dining room. The first night is a stellar "supper club" style dining experience, while the second night allows you to explore various dishes from around the galaxy. Breakfast and lunch are buffet-style and include fan favorites like Blue Milk. There is also a lounge to enjoy some galactic cocktails and specialty drinks.
Entertainment—and beyond
There are a variety of activities aboard the starcruiser, including lightsaber training, solo-sabacc, and bridge training. There are also many opportunities to meet and interact with characters from the world of Star Wars. Every guest will receive a personal itinerary before arrival, which will detail your mission aboard the starcruiser. Itineraries may include aiding the Rebel Alliance in stealing a ship from the First Order or joining a smuggling ring. These storylines will translate into experiences and attractions you can take part in during your trip to Batuu. This video from Disney Imagineers discusses in-depth how the storylines will play out during Galactic Starcruiser voyages. Arriving in full costume regalia is encouraged (with some guidelines), and you can show off your stellar gear during the formal gala on the second night of your voyage.
Enhance your stay
There are many ways to add to your experience at Galactic Starcruiser, whether during your voyage or at Star Wars: Galaxy's Edge. These include reserving a seat at the Captain's Table (placing you in the center of the Corellia Dining room), building your one-of-a-kind lightsaber at Savi's Workshop, or assembling a droid that you can race back at the starcruiser. These added experiences can be booked when making your reservation for the starcruiser voyage.
Booking your galactic experience
The two-day, two-night voyages include lodging, dining, a one-day theme park ticket to Disney's Hollywood Studios, and one-time entries to Star Wars: Rise of the Resistance and Millennium Falcon: Smugglers Run. Your stay also includes valet parking and an exclusive "databand" (a.k.a. MagicBand). Pricing for voyages varies based on the departure date but starts at $4,800 for a standard cabin.
Bookings for this experience are extremely limited, especially for March and April 2022. Reservations must be made over the phone, but there's no reason to remain on hold. Let your preferred Wishing On A Star Travel ® planner make the reservation for you! It's also a good idea to have some other dates in mind if your preferred date isn't available.
Reserve your voyage with Wishing On A Star Travel ®
As an Authorized Disney Vacation Planner, we'll take care of making your galactic voyage reservations for you! Call us today at 1-888-678-TRIP to get started! 
More details are sure to come out about this unique resort experience. Make sure you sign up for our email list to get updates right in your inbox!