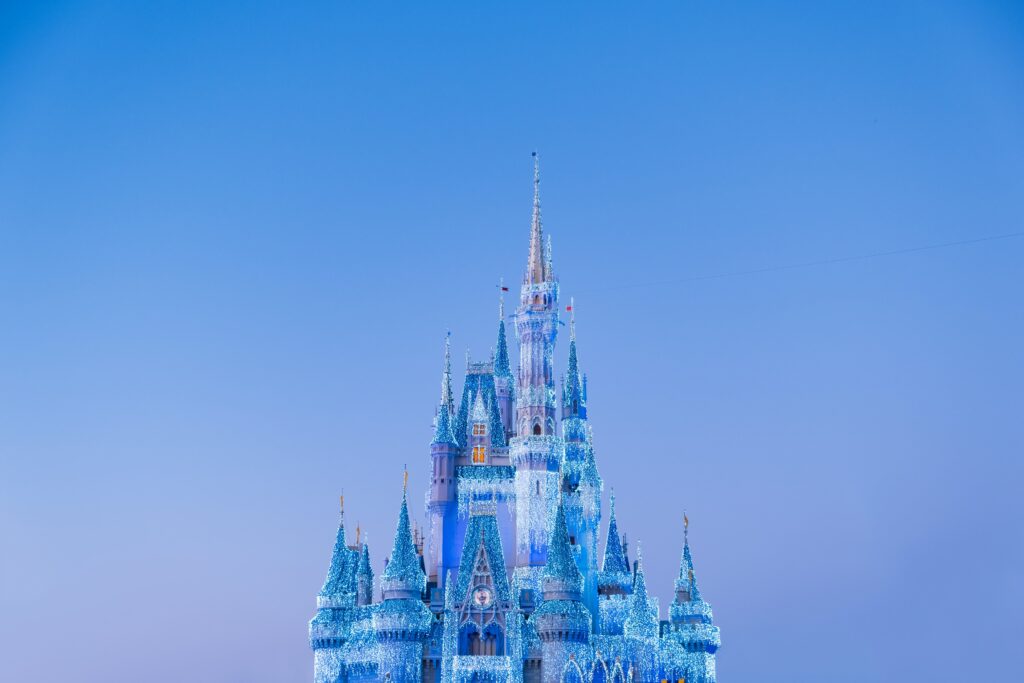 The most wonderful, magical time at theme parks like Disney and Universal is in full swing! While this season is full of merriment, it's also the busiest time of year to visit. How can you ensure your family has a very merry holiday at the parks? Below, we share our expert tips on theme park travel during the holidays.
When to go
If you're already thinking about your holiday plans for 2022 and beyond, congrats on getting started early! During this time of year, the earlier you book, the better. If you haven't booked your dates yet, you may be wondering when the best time to visit during the holiday season is? Historically, the busiest time for Orlando theme parks is the week between Christmas and the New Year. We suggest booking your trip for early November or early December, either after Halloween and before Thanksgiving week or the two weeks after Thanksgiving. These dates will allow you to enjoy all the holiday festivities the parks have to offer without the influx of holiday travelers that will visit the parks closer to Christmas and New Year's.
If you haven't booked your future holiday trip or need help planning a current reservation, we can help. Call Wishing On a Star Travel at 1-888-678-TRIP to get started.
Getting there
If you can, avoid traveling on the busiest days of the year. Traditionally, the Wednesday before Thanksgiving is the busiest travel day of the entire year. December 22nd and 23rd are the busiest travel dates before the Christmas holiday, along with the Sunday after Christmas. Recent staffing shortages may increase security and boarding wait times if flying, so plan to get to the airport with plenty of time to get through security (TSA recommends at least two hours before your flight leaves).
Air Travel with gifts
If you are flying with gifts for others, plan to wrap them once you arrive at your destination or place them in a gift bag so you can remove them for screening. Also, pack fragile items in your carry-on.
Making most of park time
Now the fun can begin! Make a list of your family's must-do attractions, shows, and entertainment, so everyone gets a chance to enjoy something they like. Download the applicable park apps and use complimentary services like Disney Genie and mobile food ordering to save time. Consider purchasing Disney Genie+, Lightning Lane, or Universal Express Pass to avoid waiting in long lines.
Get there early and plan to stay
The theme parks often reach capacity on days like Christmas Day and New Year's Eve. If you're visiting the parks on those peak days, get to parks super early—and stay there. We don't suggest park hopping on these days, as you may not be able to return to a park once you leave. If you're staying at a Disney resort, take advantage of your 30-minute early park entry. You'll be surprised how much you're able to do in that extra time with little to no wait times!
Make some wiggle room
More people in the parks means everything will take longer, from picking up food to finding a perfect spot to watch the fireworks. It also may increase your transportation times, so make sure there's room in your dining reservation schedule to account for this. Disney recommends allowing one and a half hours for travel between locations when using complimentary transportation from resorts and parks, but this may increase during the holidays. You'll also want to know all of your transportation options if your preferred method isn't operating.
Visit busy attractions at off-peak times
When visiting during a busy season, decreasing your attraction wait time is a top priority. Planning to hit some of the most popular attractions during off-peak times like early in the morning or during fireworks is beneficial. This strategy works well if you're visiting the same park over multiple days during your vacation: watch the fireworks one day, then spend that time frame t hitting some of the attractions you missed the next day. You'll zip through the line as everyone else waits for the fireworks on Main Street!
A holiday travel tip from our agency owner, Jodie Sontag:
"The biggest tip right now is to pack your patience. Everything is back open and operational, but not everything is back to full staffing. Wait times may be longer, additional health and safety protocols may be in effect, and locations may not be operating at full capacity. It's really important that people understand that just because the world is open, we aren't back to 'normal' when it comes to destination operations."
Wishing On A Star Travel ®: theme park travel experts
If you have any questions about your upcoming holiday trip to Disney destinations, Universal, cruises, or Caribbean getaways, reach out to our team of travel agents. We often travel to the theme parks and have tons of tips for enjoying the parks during any time of the year! Get in touch by calling 1-888-678-TRIP. Ready to get started? It only takes a $200 refundable deposit to book your trip. Get a quote here!
For more travel tips and updates, sign up for our email newsletter, or follow us on Facebook, Instagram, or TikTok.