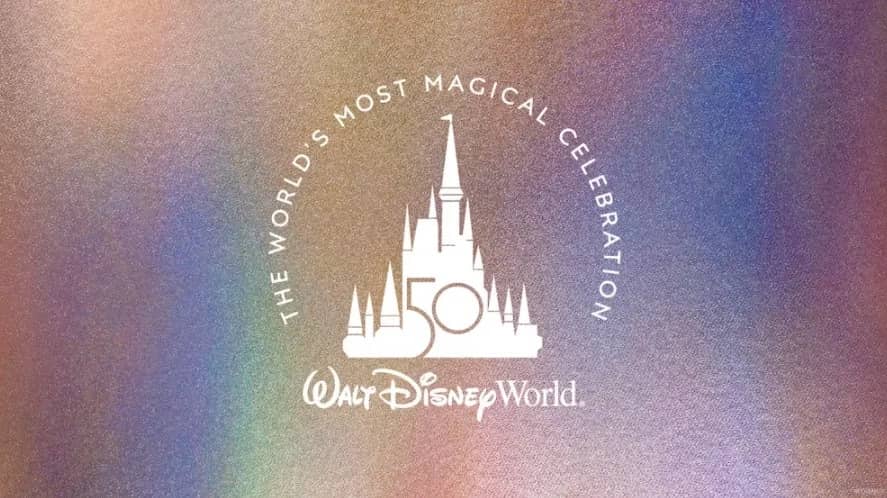 Details about Walt Disney World's 50th anniversary are finally here! We've been waiting for this news for a while now, and we can't wait to see everything Disney has in store to celebrate! Disney released details this past week that gave us a sneak peek of what's in store for the park's 50th-anniversary celebration. Here's everything we know so far!
About Walt Disney World's 50th anniversary
So, why is Disney throwing the "World's Most Magical Celebration?" It's all about celebrating the Magic Kingdom's grand opening on October 1, 1971. This year marks 50 years of magic for Walt Disney World, and the celebration is bound to be one of the most epic Disney has ever put on.
The festivities begin on the Magic Kingdom's birthday: October 1, 2021. The celebration is slated to last a whopping 18 months—making it one of the longest celebrations in park history. Events related to the 50th anniversary will go through 2022 and into early 2023. This is great news because Disney also just released vacation packages for 2022 earlier this month!
If you want to get a head start to celebrate the magic in person, our travel agent team at Wishing on a Star Travel can help. We're Authorized Disney Vacation Planners, and most of our services are free to you! It only takes a $200 refundable deposit to secure your spot. Click here to get a quote for your next dream vacation.
The details
The Disney Parks are getting all dressed up to get ready for the 50th-anniversary celebration. Disney announced that the icons at all four theme parks will get magical makeovers and become "Beacons of Magic." Shining, shimmering, and splendid elements will be added throughout the parks to create an extra touch of magic. Cinderella's Castle will shimmer with pixie dust at night, and artist renderings show that golden ribbons and bunting will wrap around the castle's turrets. At Epcot, stardust will burst from the reflective panels of Spaceship Earth, and enhanced lighting will shine on the new front entrance fountain. The Tree of Life at Disney's Animal Kingdom will appear to be filled with dancing fireflies. While over at Hollywood Studios, The Hollywood Tower Hotel will glimmer as well. All in all, everything will shimmer and shine—a site even Tamatoa would be jealous of!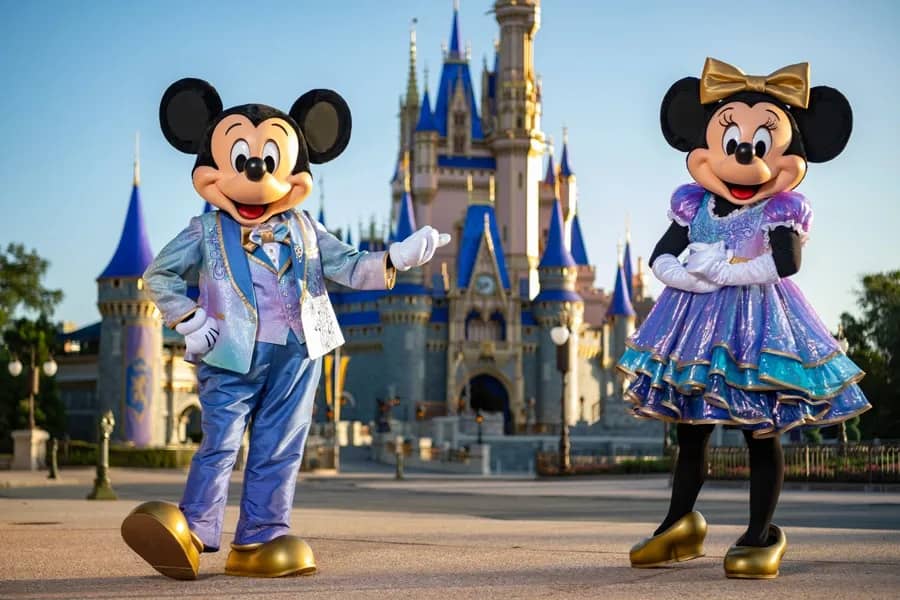 Mickey and Minnie are also getting dressed for the occasion. New pictures show the couple all decked out in new "EARidescent" attire. Minnie's dress shimmers with golden shoes and a bow, while Mickey is dressed in a suit of teal and purple.
Other attractions are slated to open ahead of Magic Kingdom's 50th birthday. As we previously discussed, the Star Wars: Galactic Starcruiser resort will take "passengers" on a fully immersive journey from check-in to check out, putting them in the middle of the Star Wars saga. Remy's Ratatouille Adventure is also set to open later this year at the France Pavilion at Epcot.
There are rumors that the new nighttime spectacular show, HarmonioUS, will premiere at Epcot by the 50th celebration as well. Construction appears to be underway for the nighttime show, but a debut date hasn't been officially announced. If HarmonioUS does premiere ahead of the 50th anniversary, it will be the first nighttime show to reappear since the pandemic shut the Disney parks down in March of last year.
These are just the first details of what will be in store for Walt Disney World's 50th anniversary. Stay up to date with the latest theme park travel news by signing up for our email newsletter.
Celebrate Walt Disney World's 50th anniversary in person
With a celebration that will last 18 months, there is plenty of time to book your trip to enjoy all the 50th-anniversary festivities in person. Packages for 2022 were just released, and with such a highly anticipated celebration, reservations will book up fast. As Authorized Disney Vacation Planners with over 1,000 trips to Disney World between all our travel agents, we know Disney and want to help you see Mickey and pals in person! A $200 refundable deposit is all you need when you book with Wishing on a Star Travel. Get a quote or call our agency at 1-888-678-TRIP to get started!