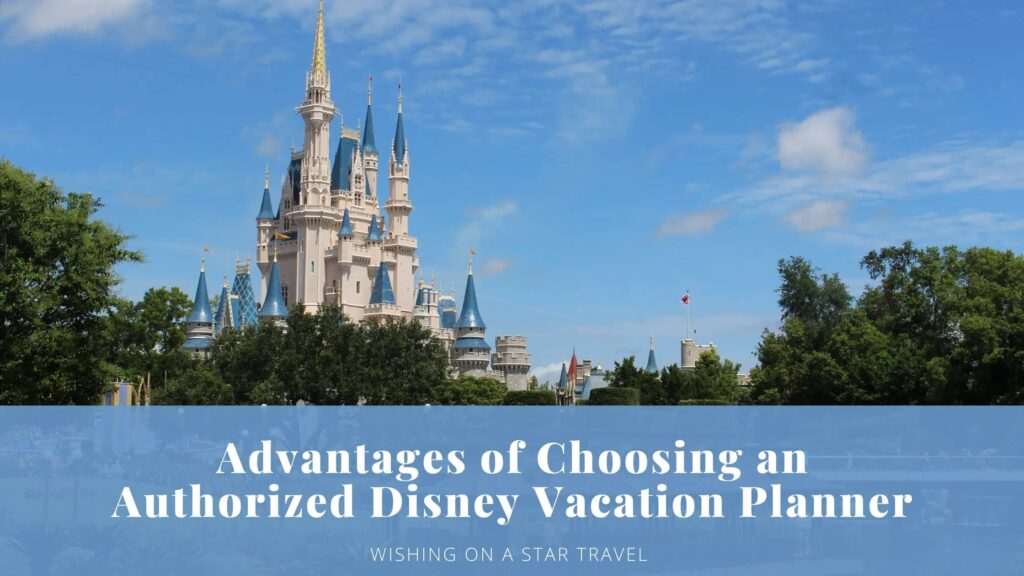 From the Disney Park Pass Reservation system to navigating transportation to your hotel and theme park itineraries, there's a lot that goes into planning a vacation to a Disney destination. Many travel agencies focus on planning Disney vacations because of the many elements that go into Disney vacation planning. However, not every agency is created equal. While any agency can plan Disney itineraries as long as they pass a knowledge test, Authorized Disney Vacation Planners have received special recognition from Disney. What exactly is an Authorized Disney Vacation Planner, and what are the benefits of using one? We break it all down below.
What is an Authorized Disney Vacation Planner?
Abbreviated ADVP, Authorized Disney Vacation Planners receive special acknowledgment from the Walt Disney Company, recognizing their talents for planning trips to Disney destinations. ADVPs have access to exclusive Disney resources and training, so agents always have the latest Disney knowledge.
As members of Disney's EarMarked℠ program, Authorized Disney Vacation Planners must follow strict guidelines and meet specific requirements to keep their status year after year, including maintaining sales volume and completing training. ADVP agencies receive one of four classifications determined by their sales volume: bronze, silver, gold, platinum, and diamond.
Advantages of working with an Authorized Disney Vacation Planner
ADVPs specialize in planning itineraries and selling trips to Disney destinations. Here are just some of the advantages you'll gain by choosing an Authorized Disney Vacation Planner to plan your next Disney trip.
1. Extensive Disney expertise
ADVPs must complete comprehensive training that ensures all travel agents are well versed in Disney knowledge. As an ADVP, it's not enough to visit the parks every few years, Google some tips, and then plan someone else's vacation. Agents are tested on their knowledge of Disney destinations, so you can rest assured that you are getting knowledgeable Disney travel advice. As part of maintaining ADVP status, agents must regularly visit the parks to stay updated with current trends.
2. No stress planning
When you use an Authorized Disney Vacation Planner, you're using a travel agent with extensive Disney knowledge. Authorized Disney Vacation Planners are available to answer any questions you may have—whether it's your first time visiting or you go multiple times a year. We get up early and book those hard-to-get reservations for you. If we can't get a problem solved, we'll contact Disney and wait on hold for you to ensure everything is in order so you can focus on creating a lifetime of family memories.
3. Most services are free to you
ADVPs receive commissions from Disney, not from individual customers. This means we can offer the exact pricing as if you would've booked yourself, but you save hours upon hours in the process. A $200 refundable deposit secures your trip. Get started by calling Wishing on a Star Travel at 1-888-678-TRIP.
4. We're passionate about planning Disney trips
Frequent visits and comprehensive Disney knowledge are what set ADVPs apart. We believe in the magic and are passionate about helping others plan magical trips. Becoming an Authorized Disney Vacation Planner is an intense process that isn't taken lightly. Truly passionate travel teams make up ADVP travel agencies. Not only do we get up early to book your Fast Pass+ and dining reservations, but we love doing it! We know the ins and outs of safety protocols, as well as how to maximize your time in the parks with insider tips and tricks.
5. Agency perks
While there are many Authorized Disney Vacation Planners to choose from, you get some added benefits when you book your trip with Wishing On a Star Travel. We're a gold EarMarked℠ agency with nearly 50 agents across the entire U.S. We visit the parks an average of 200+ days a year. When you choose our agency, you have access to all the deals and promotions currently in place, plus a few perks. For example, right now, book a Walt Disney World Package for any check-in date during 2021 (minimum four-night stay with tickets) with us and get Magic Bands for free! Sign up for our email newsletter to stay up to date with the latest promotions and travel news.
Book your trip with Wishing on Star Travel, an Authorized Disney Vacation Planner
We know Disney and want to help plan your next magical vacation! We are Authorized Disney Vacation Planners and have taken over 1,500 combined trips to Walt Disney World between all of our travel agents.
A $200 refundable deposit is all you need when you book with Wishing on a Star Travel. Get a quote or call our agency at 1-888-678-TRIP to get started!