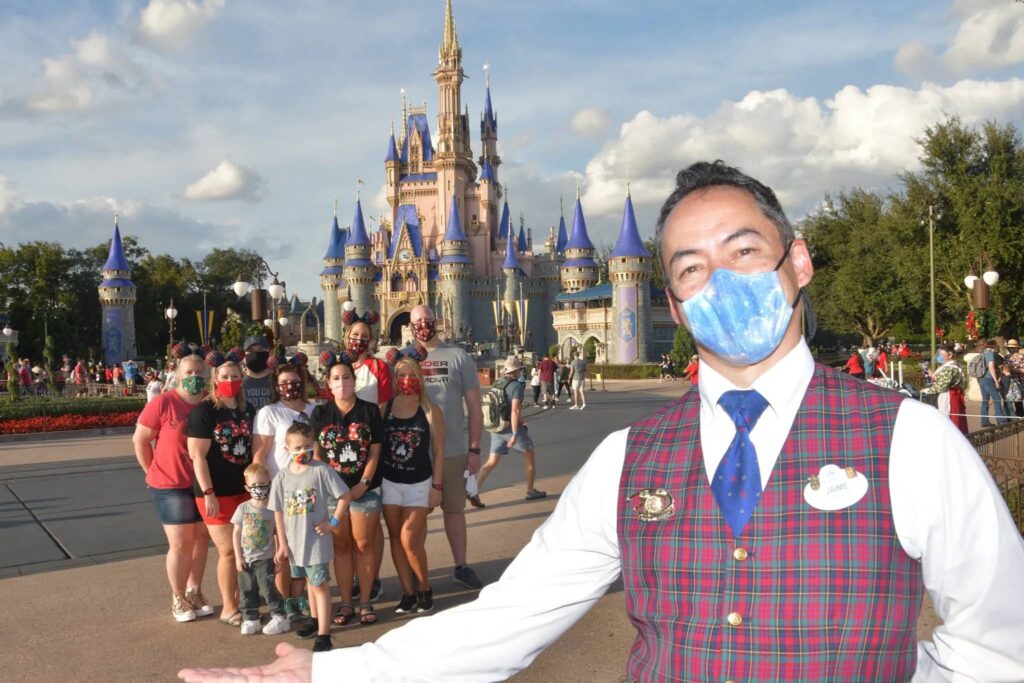 Ready to experience the Disney parks like never before? Consider booking a VIP Tour for your next Disney vacation!
Several of our travel agents at Wishing on Star Travel had the privilege of experiencing a private VIP Tour day during a recent trip to Walt Disney World. Here's what you can expect from a Disney VIP Tour!
What is a VIP Tour?
A VIP Tour is one of the most luxurious and exclusive ways to visit the parks. When you schedule a VIP Tour, a personal guide will escort your group around the property. Simply tell your guide what parks you want to visit and which attractions you want to ride, and your tour guide will arrange everything for you! You are picked up for your Disney Resort in a private vehicle and driven from park to park throughout the day. You even get a Disney VIP Tour button to wear.
You can arrange the day in whatever way works best for your party. You can park hop (as long as you have a valid park hopper ticket), stop for breaks, enjoy a meal, and experience the attractions and entertainment of the parks at any time during your tour.
VIP Tour Guides are hand-picked and expertly trained to plan the perfect itinerary for you. They'll get you front-of-the-line access to top attractions, bypass the main entrances, and offer expert tips and tricks to enjoying the parks.
Perks of a VIP Tour
For our group, the main benefit of booking a VIP Tour is the amount of time you'll save, from passing main park entrances to skipping ride lines. By utilizing the full power and benefits of booking our VIP Tour, we rode 15 attractions and visited three parks, all in one day. We rode more attractions in one day than you're sometimes able to do in an entire Disney vacation!
These attractions had standby wait times between 60 and 90 minutes, but we were on and off the rides in less than five minutes, on average.
When you book a VIP Tour, you have your bags, tickets, and temperature checked beforehand, allowing you to skip the main entrance lines. Instead, we entered through backstage entrances and got right to the fun. A VIP Tour Guide leads you through the parks and walks you to the front of the line of each attraction. You even get to go through some "secret passageways" and backstage areas no one else gets to see.
You'll also save a ton of time by having private transportation to, from, and inside the parks. After visiting Pandora at Disney's Animal Kingdom, we were shuttled to Dinoland using backstage access points instead of walking across the park.
Getting the most out of your VIP Tour
Get the most out of your VIP Tour by having a plan of what you'd like to do during the day. We suggest knocking out the top rides on your family's to-do list. Then, you can spend the rest of your vacation exploring, relaxing, and enjoying the atmosphere since you've already hit many of the attractions you would've spent hours waiting in line for!
Our tour guide ensured everyone, even little kids, had a great time during the day. While our main group rode Rise of the Resistance, our tour guide took one of our agents and her young son on all the attractions in Toy Story Land. That certainly beats sitting on a bench waiting for the rest of the group! Our guide timed everything out. He knew where our friends were in line and how much time we had left, so no one waited around for each other.
There are several safety protocols in place when you experience a VIP Tour. Everyone is required to wear masks. Our private van had a plastic barrier between the front seat and the passenger area. As our Tour Guide escorted us around the parks, he remained socially distant. We also applied hand sanitizer before and after entering the attractions.
VIP Tour pricing
VIP Tours are priced at an hourly rate with a seven-hour minimum, with rates starting at $425 per hour, based on the season. This rate does not include park admission, which you'll have to purchase separately. If you want to park hop during your VIP Tour, you'll need to make sure everyone in your party has a valid park hopper ticket. You'll also need to make a reservation through Disney's Park Pass system. You can have up to 10 people per tour. Don't let the price discourage you, however. When you split it amongst a large group (like we did), the cost becomes much more reasonable, and it's well worth it!
Even if you want to book a tour with a small group, you'll still see a huge benefit. You could probably get even more done than our large group was able to do in that scenario. Imagine a luxurious couple's dream Disney day—with a proposal in front of the castle as a cherry on top!?!
Whether you're a couple looking for an exclusive and inmate way to upgrade your park experience, or a large family looking to get the most out of your Disney vacation, a VIP Tour could be for you!
Book your VIP Tour with Wishing on a Star Travel
VIP Tours can be a great addition to any Disney trip! If you're vacationing at the parks for a short time, a VIP Tour day will help you maximize your time at the parks. VIP Tour services are highly sought after and have limited availability. If this is something you want to experience during your vacation, call Wishing on a Star Travel at 1-888-678-TRIP, and we'll take care of booking it for you!