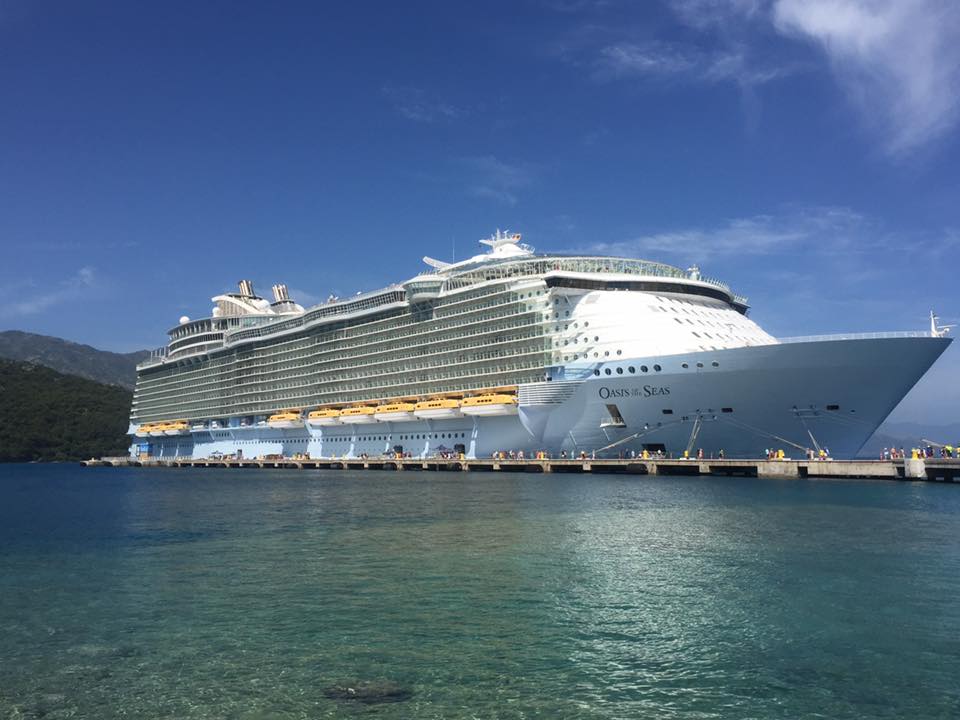 Royal Caribbean is one of the largest cruise lines available, with 60 ships across seven classes that travel to 800 destinations around the world. With so many options, there's a ship for every taste and vacation style. How do you pick which boat to book for your next cruise? Below, we break down the best ships in the Royal Caribbean fleet.
Wonder of the Seas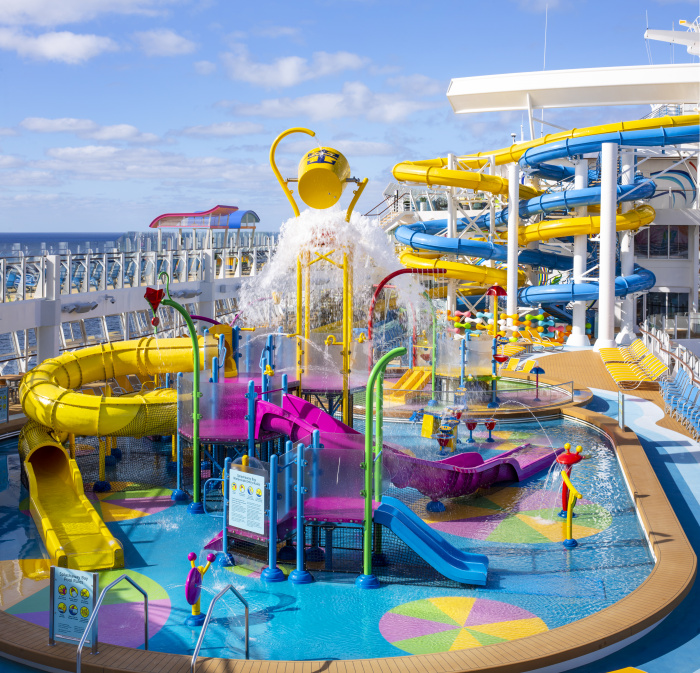 This ship is Royal Caribbean's newest addition to the fleet. It's also the largest cruise ship currently in commission. Wonder of the Seas had its inaugural sailing in 2022 and has space for over seven thousand guests, including over 2,800 staterooms. There are 32 dining locations on board, with a mix of included eateries, specialty dining locations, and bars. A new dining concept, The Mason Jar, features southern comfort food like fried chicken, gumbo, and BBQ. In addition to being the largest cruise ship in the world, Wonder of the Seas stands out for many reasons. Wonder of the Seas features eight neighborhoods, using Royal Caribbean's signature deck plan model that provides dedicated spaces to eat, play, and shop. New to Wonder of the Seas, the Suites Neighborhood offers suite guests spacious accommodations and private places to relax, like a sun deck and dedicated pool. Other featured neighborhoods include Central Park—with green, lush landscaping dotted between guest rooms, and the Boardwalk—a fun and interactive play area with twists on classic boardwalk games and attractions.
Play is a recurring theme on the ship, with features like a large underwater-themed playground for kids called Wonder Playscape℠, an interactive mini-golf course, and a zipline. Thrills abound when you ride on one of the three waterslides that make up The Perfect Storm℠ or plunge into the Ultimate Abyss℠, an enclosed body slide with a 10-story drop. There are also expanded indoor and outdoor hang-out areas for teens.
Wonder of the Seas sails out of Cape Canaveral, Florida, for seven and eight day Caribbean cruises.
Odyssey of the Seas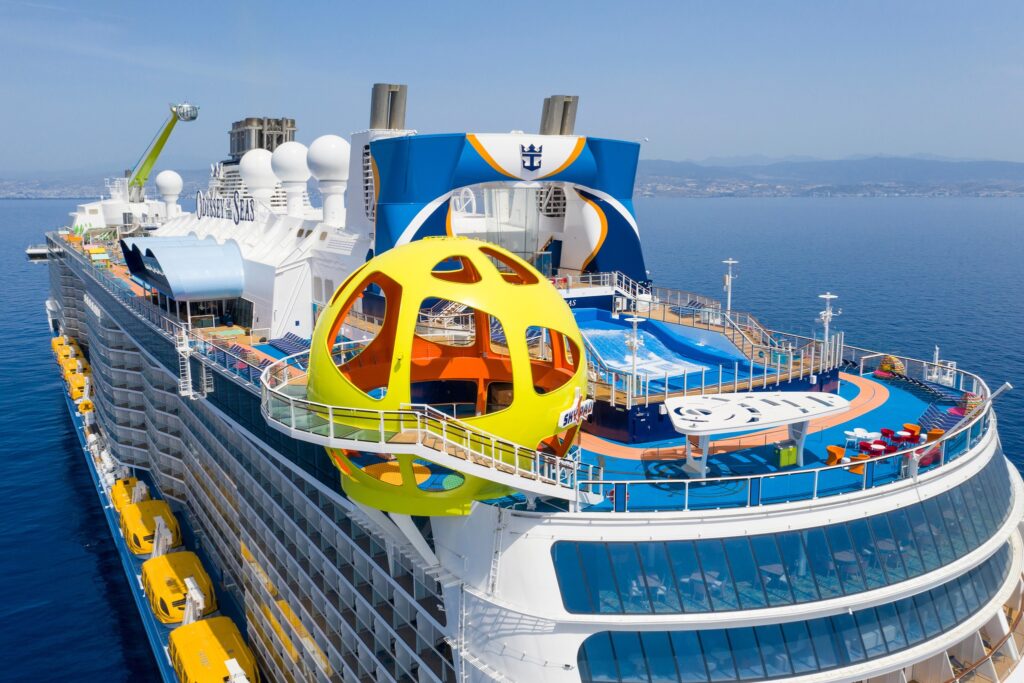 Odyssey of the Seas has been sailing since 2021 with room for 5,510 guests across over 2,000 staterooms. Over 20 restaurants, bars, and lounges can be found on board, including Giovanni's Italian Kitchen & Wine Bar, which premiered on the ship and has been added to other Royal Caribbean cruises. Odyssey of the Seas takes guests on an epic journey filled with adventure and thrills. Adrenaline junkies will never be short of things to do, whether taking in virtual reality experiences at the SeaPlex (the largest indoor activity center at sea) or enjoying the thrill of skydiving (without a plane) with Ripcord® by iFly®. There's also immersive laser tag, a rock climbing wall, and a bungee trampoline park overlooking the ocean called SkyPad®. For those who like high-flying adventures, step onto the ship's observation capsule, North Star®, which rises high above the sun deck and 300 feet above sea level. It's the tallest viewing deck on any cruise ship!
You can sail on Odyssey of the Seas from Cape Liberty, New Jersey, and Fort Lauderdale, Florida. There are also transatlantic itineraries that sail from Italy and visit iconic places throughout Europe. Destinations include Canada, Europe, and the Caribbean.
Oasis of the Seas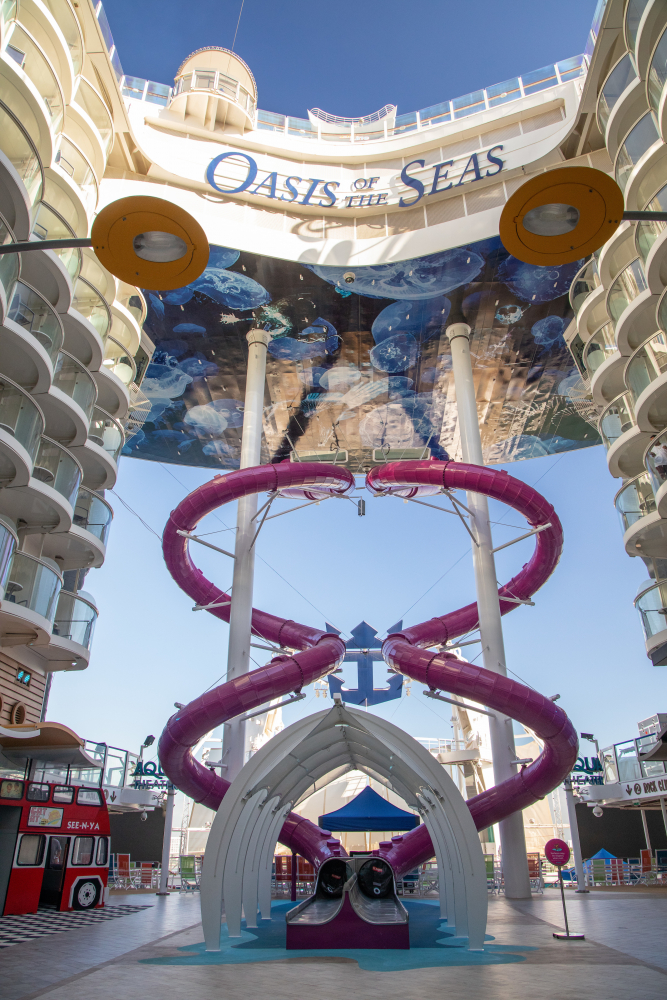 The oldest ship on our list went through a recent renovation and provides excitement and entertainment for guests of all ages. The ship's inaugural sailing was in 2009, with space for 6,771 guests and 31 restaurants. Oasis of the Seas is all about family fun—it was the first Royal Caribbean vessel to feature Splashaway Bay®, a full-scale waterpark that includes waterslides, fountains, cannons, and much more. There is also an expanded Adventure Ocean club, a designated place for infants, toddlers, and preschoolers to play and explore. Teens and adults can enjoy laser tag together or solve puzzles in the escape room, Mission Control: Apollo 18. Wonder together at the outdoor AquaTheater, which features Olympic-level swimmers performing stunts and acrobatics high above the sun deck and plunging into the deepest pool on a cruise ship. Or, take in the full-scale Broadway production Cats. Cool down with a show on the ship's ice skating stage, with original productions like Frozen in Time.
Destinations include Canada, Europe, and the Caribbean. Oasis of the seas sails out of Cape Liberty and Miami.
Allure of the Seas
Touted as the "most awarded ship in the world," Allure of the Seas has a lively atmosphere both day and night, with room for 6,780 guests. It has 15 bars and lounges, more than any other cruise ship. Nightlife thrives here, with a dedicated cover band music bar, a Latin nightclub, and much more. The Rising Tide Bar moves three stories up on an open-air elevator, transporting guests from the Central Park neighborhood to the Royal Promenade. There's no shortage of entertainment, from the Broadway smash hit Mama Mia! To original shows in the AquaTheater and an ice skating rink. Adventure seekers can climb on the rock wall, the 10-story high zipline, and the FlowRider Surf Simulator. Or, beat the heat at the H2O Zone℠ Water Park. Allure sets sail from Miami, Port Canaveral, or Galveston, Texas, for three to seven night Caribbean cruise options.
Icon of the Seas
Icon of the Seas is Royal Caribbean's newest ship, which will begin sailing in January 2024. It will be the largest cruise ship in the world while reenvisioning many of Royal Caribbean's signature offerings. It promises to be the ultimate family vacation with something for everyone. Icon will have eight neighborhoods, including Thrill and Chill Islands, Surfside (a neighborhood dedicated to families with children under six years old), and a newly constructed Suites Neighborhood. Icon will also premiere the AquaDome, a multi-faceted entertainment space on the ship's hull that encloses the AuqaTheater and brings it indoors. There is so much to explore about this new ship! We provide a full breakdown of everything Icon of the Seas offers here. Icon will set sail for seven day Caribbean cruises out of Miami beginning January 2024.
Wishing on A Star Travel will sail on the Icon of the Seas from July 27 — August 2, 2024. Join us and save up to $500 off booking the cruise on your own. Plus, reserve your cruise between now and the end of 2023 for a $100 onboard credit!
Call your Wishing On A Star Travel ® agent at 1-888-678-TRIP to take advantage of this deal!
Book Your Cruise and Much More with Wishing On A Star Travel ®
Wishing On a Star Travel makes travel dreams come true, wherever they take you! Get a free quote for your trip, or call us at call 1-888-678-TRIP to get started. Don't forget to sign up for our email list for travel news, features, and offerings right in your inbox!