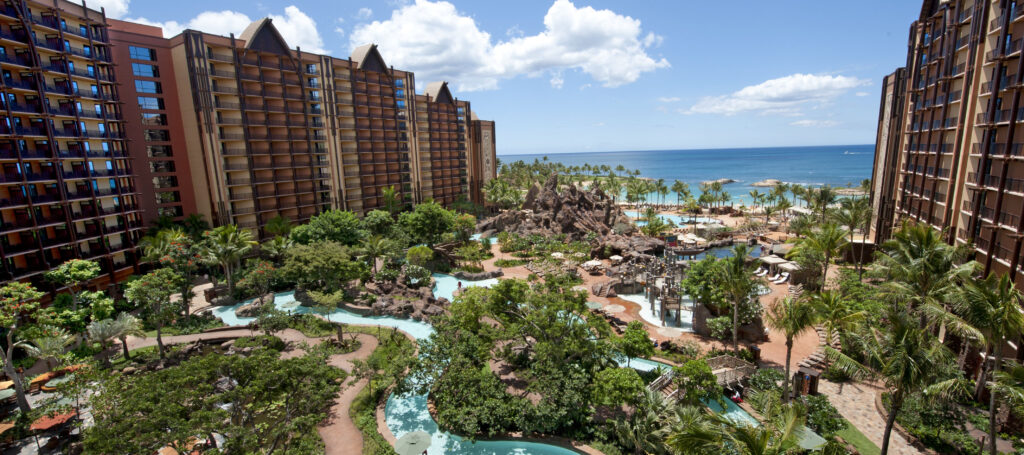 Aulani, a Disney Resort and Spa, is nestled along the Ko Olina beach area on the island of O'ahu, just a short drive from Honolulu. Since it opened in 2011, Aulani has beckoned guests to celebrate Hawaiian culture and tradition while offering the world-class service, amenities, and entertainment Disney is known for. Aulani is a unique Disney destination with its own character, giving families a fantastic place to enjoy the Hawaiian islands together. Aulani offers many activities and amenities, so there's something for everyone. Here are our top five must-do experiences at Aulani. 
Immersive Hawaiian Experiences
Aulani offers guests plenty of opportunities to explore Hawaii's beauty and rich culture, combining timeless traditions with modern amenities. Several experiences allow you to discover the history and traditions of the island, many of them included with your stay:
Mo'olelo Fire Pit Storytelling
Gather around the firepit as a master storyteller, known as Uncle, shares tales and legends of the island. Watch as the sun sets over the lagoon as you immersive yourself in island traditions. Moana also makes a special appearance at the event, held on select evenings throughout the year.
Hula Dancing
Include the whole 'Ohana for daily group hula lessons at the resort.
Sunrise Yoga
Breathe in the beauty of O'ahu with a beach yoga session. All ages and abilities are welcome.
Stargazing
Referred to as "'Imi Loa Nāa Hōkū" or Explore the Stars, this premium experience allows you to gaze into the heavens through a powerful telescope while learning about how early Polyenisean voyagers navigated the ocean using the stars.
Ukulele Lessons
Music lovers of all ages can enjoy learning about the history of this beloved Hawaiian instrument while learning a tune or two. Lessons are included with your stay, but you can purchase an authentic ukulele at the end of the class if you desire.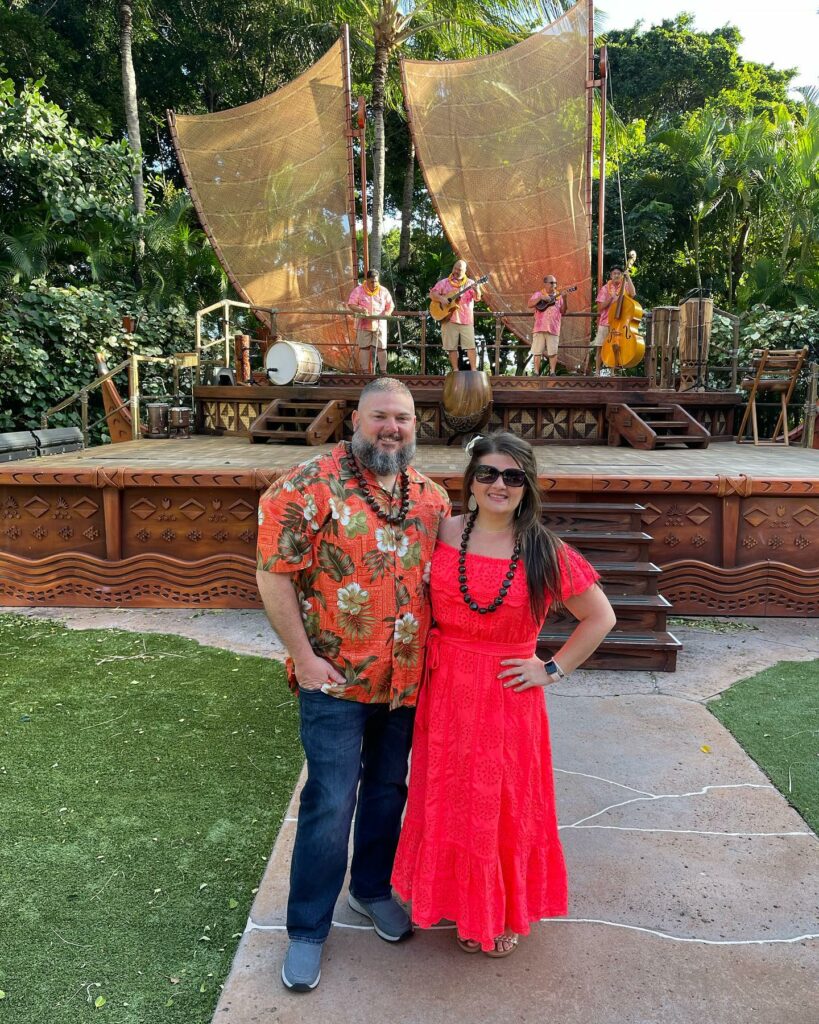 KA WA'A Luau
If you're in Hawaii, experiencing an authentic luau is a must! This three-hour-long outdoor dinner experience begins with pre-show activities like lei making and taro pounding and continues through the evening with traditional performances by local artists and dancers. Acts include storytelling, Samoan fire knife acts, live Hawaiian music, and hula dancers. Plus, Mickey and Minnie also make an appearance! The dinner experience consists of a three-course meal with all drinks and cocktails included. Featured dishes include poke, freshly caught seafood, Prime Rib, teriyaki chicken, Imu-style braised pork, and stir-fries. A wide selection of desserts includes local flavors, like guava or passionfruit cakes, coconut pudding, and macadamia nut brownies.
General and preferred seating options are available. Those who choose preferred seating can enter the theater 10 minutes early, receive early check-in, and a complimentary group photo digital download.
Character Breakfast
For guests traveling with "keiki" or for the young at heart, dining with Disney characters while in Hawaii is a can't-miss experience! Aunty's Breakfast Celebration is held every morning at Makahiki, one of Aulani's two table service restaurants. Guests enjoy visits from Mickey, Minnie, Pluto, and Goofy—all decked out in Hawaiian attire. The breakfast buffet includes Hawaiian-style pastries, omelets, french toast, waffles, pancakes, and local dishes like loco moco and lox & bagel.
Rainbow Reef
This is definitely an add-on experience you'll want to budget for. Rainbow Reef is O'ahu's only private snorkeling lagoon, located right in the middle of Waikolohe Valley, Aulani's primary pool and water area. The 3,800 square foot reef includes bright and colorful marine life like butterfly fish, angelfish, tangs, and surgeonfish. There are also artistic rock carvings to explore, along with some hidden Menehune ( or "little people") of the island. Your entrance fee includes a life vest, mask, and snorkeling gear.
Island Tours
With so much to explore on the island of O'ahu, we recommend taking some time to discover the island! Aulani offers several curated tours provided by local vendors that will help you see the beauty and wonder of the island. Here are a few samples of tour offerings:
Circle Island Tour
An all-day private bus tour takes you in a loop around the entire island, stopping at famous sights along the way. You'll visit pineapple plantations, waterfalls, and other historical and natural landmarks.
North Shore Experience
Dive deep and discover one of Hawaii's most famous beaches and the surrounding area. Explore the North Shore the way you want by selecting up to two activities, such as kayaking, bike riding, paddle boarding, surfing, or entry into Waimea Falls Park. During the winter months, see the colossal waves at Banzai Pipeline. You'll also have time for some fun in the sun at Laniakea Beach.
Pearl Harbor Excursion
This bus tour brings you to the historic Pearl Harbor Naval Base. Board a shuttle boat to view the USS Arizona Memorial up close, and learn more about the "day that will live in infamy" by visiting the Pearl Harbor Visitors Center.
Enjoy Disney Destinations Around the World with Wishing On A Star Travel ®
We recently had the opportunity to travel to Aulani and see all these wonderful offerings in person! We are thrilled to help you plan this bucket-list adventure and experience everything this resort offers. Check out pictures and videos from our recent trip by following us on Facebook and Instagram. Ready to plan your unforgettable Aulani vacation? Get a free quote for your vacation today!
Sign up for our newsletter for more information and updates from Aulani and other Disney destinations.