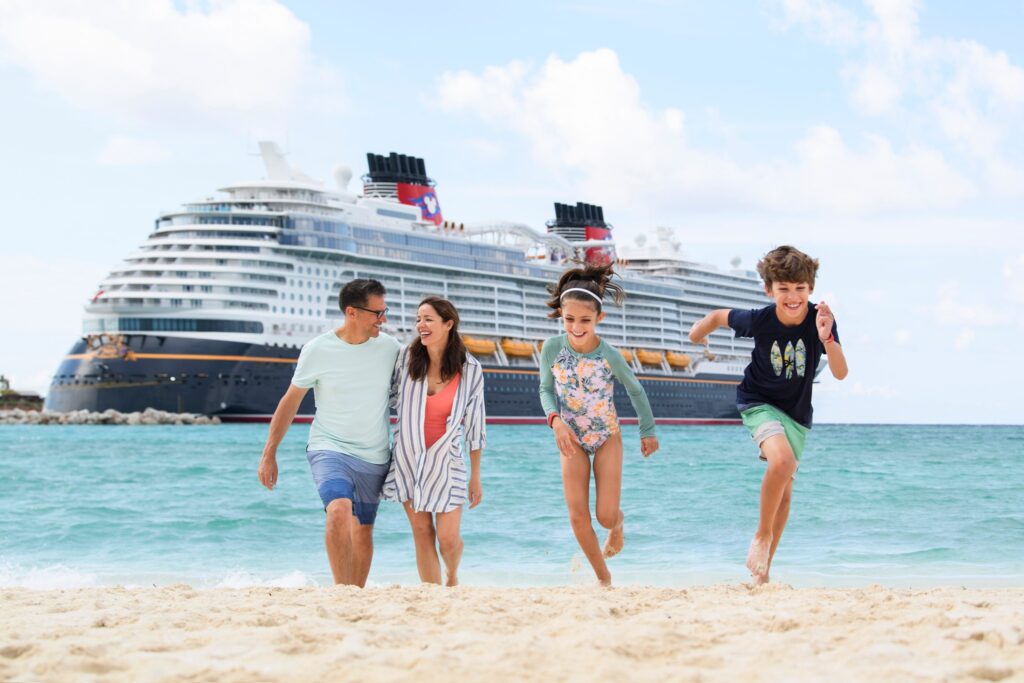 Disney Cruise Line brings the world-class amenities and entertainment offerings of its parks and resorts to the sea. Disney offers many exceptional experiences that stand out from other cruise lines. Here are the amazing experiences that make taking a Disney cruise unique.
Rotational Dining
One of Disney Cruise Line's stand-out features is how it approaches dining. Unlike most cruise lines, where you eat in the same dining room at the same table with the same people each night, Disney Cruise Line offers the chance to encounter a new interactive culinary adventure every day of your cruise. With rotational dining, you can experience the ship's three immersive and theatrical dining locations each night aboard. From celebrating Anna and Kristoff's engagement with Frozen friends at Arendelle on the Disney Wish to watching Disney characters be drawn to life at the Animator's Palate aboard the Magic, Wonder, Dream, and Fantasy, there is an amazing experience everyone can enjoy.
On the first night of your cruise, you'll receive a schedule with your dining time (seating typically begins at 5:45 and 8:00 pm) and the dining location you'll enjoy each night of your cruise. You'll meet your wait staff when you arrive for dinner the first evening, and they will follow you to each dining location throughout your cruise. This allows your wait staff to get to know you, your family, and your dining preferences so you get first-class service throughout your cruise. If you sail for more than three nights, you'll rotate through the locations an additional time. For instance, seven-night cruise itineraries will experience each dining location twice.
Several specialty, adult-exclusive restaurants, such as Palo and Remy, are also onboard. These locations aren't included in your cruise fare but are an excellent way to celebrate a special occasion.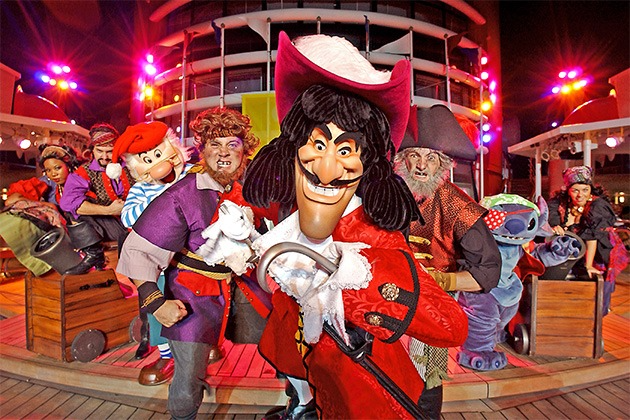 Deck Parties & Fireworks at Sea
Disney's entertainment offerings go beyond the typical Broadway-style shows aboard most cruise ships, with interactive and immersive parties that feature your favorite Disney characters. Every sailing includes a deck party, whether it's a sail away celebration or a whole day dedicated to Pixar and Marvel characters. These themed celebrations allow you to play and interact with your favorite Disney stories in a whole new way. For instance, the new Pixar Day at Sea features fun-themed games, entertainment, and meet and greets with your favorite Pixar characters like Buzz, Woody, and the gang from Toy Story and the Incredibles. Another fan-favorite experience is Pirate Night, where you'll participate in swashbuckling adventures through the night. The festivities typically conclude with a fireworks display. Fireworks are usually offered on four-night or longer itineraries.
If you're voyaging now through September 2023, you may get the chance to experience a brand-new fireworks display in honor of the cruise line's Silver Anniversary at Sea.
Oceaneer Club
The Oceaneer Club and Lab are dedicated spaces for kids ages three through twelve to explore, create, and discover the power of imagination. This drop-off activity program is led by Disney counselors. It offers a wide range of interactive activities that allow your children to experience their favorite Disney characters like never before. Each ship has unique offerings, such as painting with Rapunzel, exploring Andy's Room, becoming a Jedi, training with the Avengers, visiting Tinkerbelle in Pixie Hollow, and playing with beloved Disney Jr. characters.
To register, stop by the Oceaneer Club desk on embarkation day with your children. They'll receive bracelets allowing them to access the amenities of the Oceaneer Club throughout the cruise. Once registered, they can come and go as they please during the club's operational hours on board. The Oceaneer Club also makes notable considerations for children with special needs.
Disney Private Islands
Another stand-out feature of the Disney Cruise Line is its private island experiences, available on select itineraries to the Caribbean and the Bahamas.
Castaway Cay
At this private island getaway, you can spend a day at the beach (lounge chairs, umbrellas, and towels are included), experience two floating waterslides, participate in an island-exclusive 5K, and much more. You can choose additional excursions, such as bike rentals, snorkeling, banana boats, parasailing, fishing, glass-bottom boating, and jet skiing. Many of the snack shops and dining locations at the port are included with your cruise fare. In addition, your Key to the World card also works on the island for merchandise and other purchases.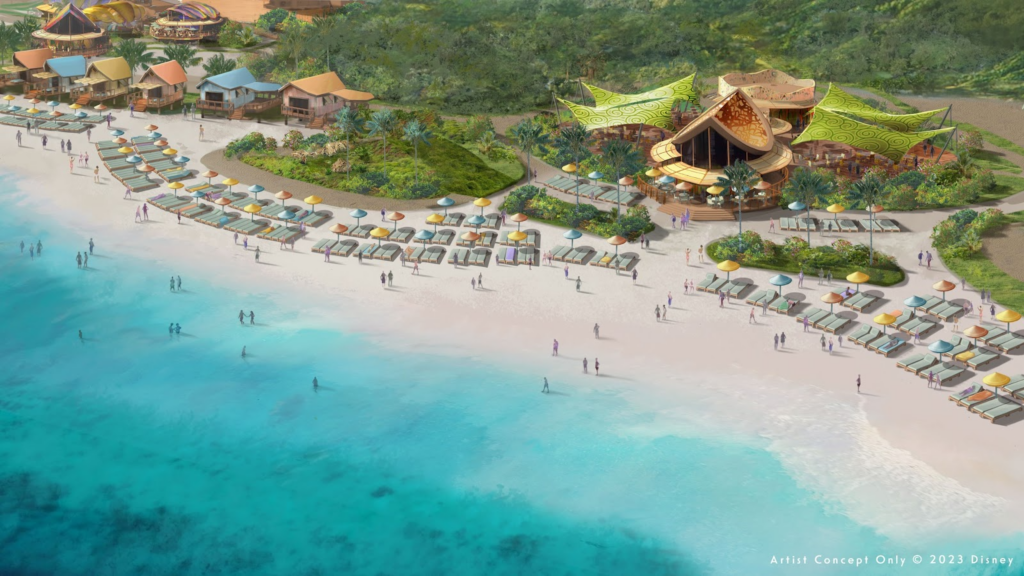 Lighthouse Point
Lighthouse Point is Disney Cruise Line's newest private island experience on the island of Eleuthera in the Bahamas. This location promises to bring the vibrant colors and architecture of the Bahamas into every aspect of the island's design. The island will feature a private beach, an adult-only escape, a splash area for preschoolers, and much more. Lighthouse Point is set to open in Summer 2024.
Attractions at Sea
Disney Cruise Line features several water-park-style attractions aboard its cruise ships. The Disney Wish features the AquaMouse, a water coaster themed after the new Mickey Mouse cartoons. The Disney Fantasy and the Disney Dream include the Auqa Duck, a clear water-coaster that propels you through 765 feet of tubing through the ship's top decks. The Disney Magic features the Aqua Dunk, a clear-tube water slide that takes you over the ship's deck and over the ocean for a unique view.
Disney Cruise Line Rewards
Disney Cruise Line offers a great rewards program for returning cruisers called the Castaway Club. Castaway Club members receive benefits like early cruise and excursion booking windows, a dedicated check-in location, and a welcome aboard gift. The more you cruise with Disney Cruise Line, the more rewards you'll receive. The best part is that you don't need to sign up. You start getting benefits once you step aboard your second cruise with Disney Cruise Line.
Design the Disney Cruise of Your Dreams with Wishing on A Star Travel
Disney Cruise Line's current fleet includes five ships, the Disney Magic, Wonder, Dream, Fantasy, and Wish. A sixth ship, the Treasure, will set sail in 2024. Wishing on a Star Travel is an Authorized Disney Vacation Planner that will help you plan the cruise of your dreams. We have a team of over 50 agents that have traveled to Disney destinations over 1,000 times combined!
Let us put our knowledge to help you plan a fantastic vacation for you and your family. Get a free quote for your vacation today.
Sign up for our email list for the latest Disney travel experiences and offerings.