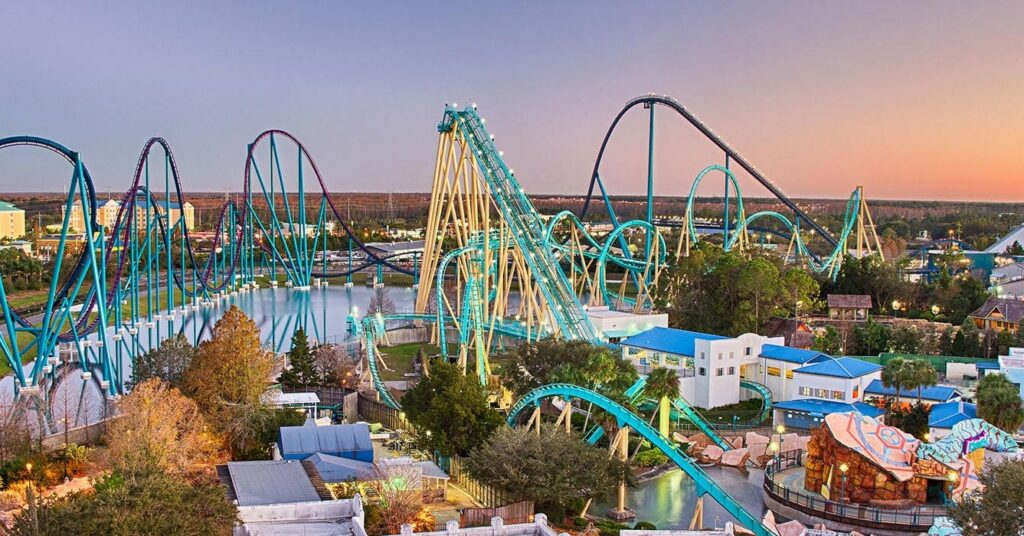 SeaWorld allows guests to get up close with marine life, from viewing aquariums, experiencing exhibits, and participating in marine life shows throughout the park. The park also focuses heavily on conservation and rescue efforts. In fact, SeaWorld is the largest marine animal rescue organization in the world. However, did you know SeaWorld is also a full-scale thrill theme park? Nicknamed the "Coaster Capital" of Orlando, it has the largest number of coasters in a single park in Central Florida. SeaWorld Orlando is an excellent place for adrenaline lovers to experience thrills and chills when visiting Orlando. Check out our top picks for thrilling adventures at SeaWorld here!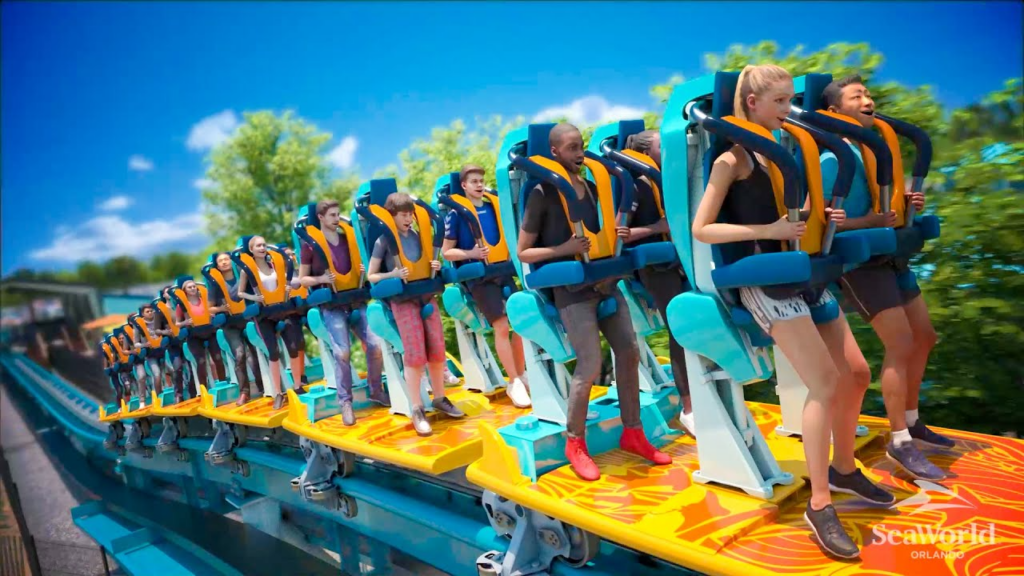 Pipeline ** New **
SeaWorld's newest roller coaster opened on May 27th. The first of its kind, this stand-up coaster beckons you to ride the waves while being thrust through loops, twists, turns, and drops. Stand atop your surfboard-shaped coaster car and hang tight (and ten!) as you're launched down a 110-foot drop at 60 miles per hour. The vehicle seats (which look like bicycle seats that you straddle) move up, down, and sideways to mimic the genuine feeling of surfing. It's definitely a can't-miss attraction at SeaWorld!
Minimum Height: 54"
Max Height: 78"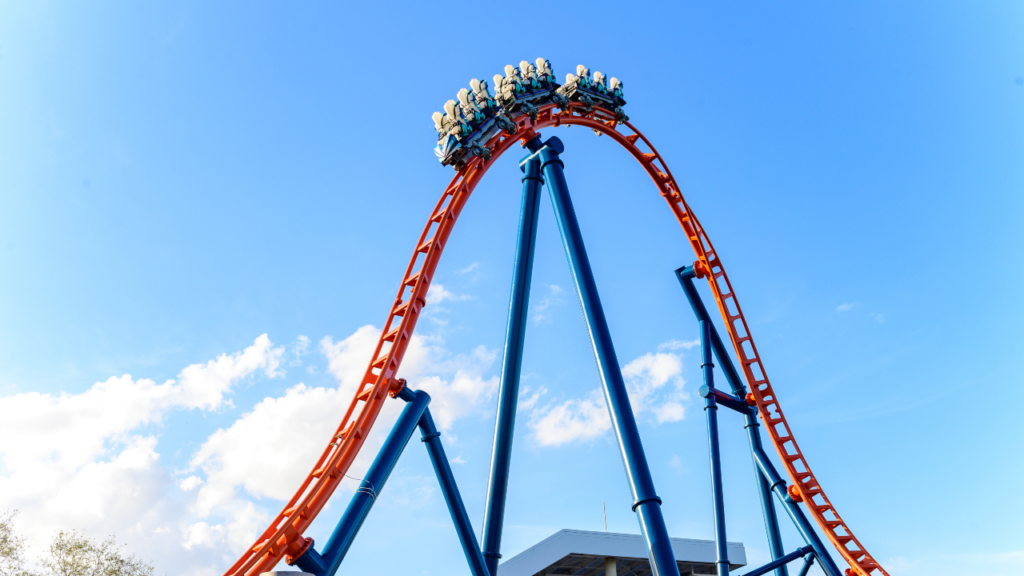 Ice Breaker™
Ice Breaker is the second newest roller coaster at SeaWorld, which opened in February 2022. Despite its name, this coaster is anything but chill. It features four launches, two backward and two forward. The most intense backward launch brings you up a 93-foot spike and then drops you at a 100-degree angle—the steepest beyond the vertical drop in Florida. Then, you're propelled forward over a vertical tophat, through corkscrews, and down hills for maximum airtime.
Minimum Height: 48"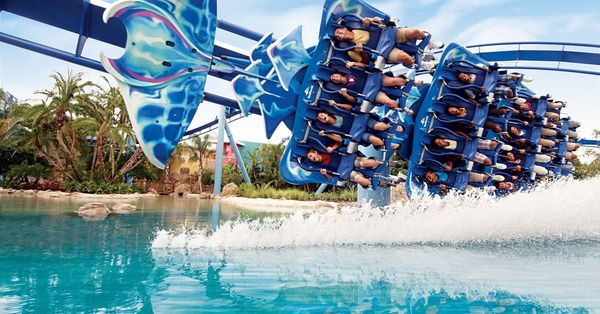 Manta®
This coaster made its debut in 2009 and has wowed guests ever since. This coaster's unique design makes you feel like you're hitching a ride with a manta ray. You lay on your stomach, viewing the ride in a head-first, face-down position with the track above you. Then, you dip, jump, glide, and swoop through twists and turns, coming close to grazing the water below you. You'll also experience a reverse flip, getting propelled head-first through a series of corkscrews. This coaster is also notable for its queue line, where you'll view a giant aquarium with over 300 rays.
Minimum Height: 54"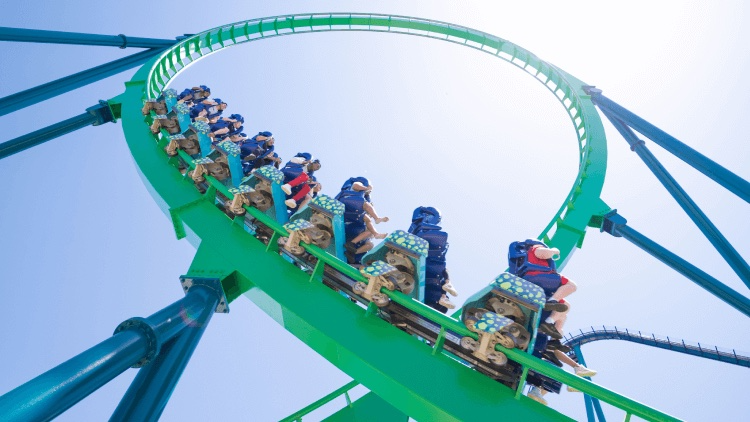 Kraken®
The Kraken is the oldest coaster at SeaWorld and the only floorless coaster in Orlando. It's named after a mythical beast, which was said to gobble up whole ships and was the source of many sailor legends. This coaster takes you through seven inversions, including one 128-foot high loop, at 65 miles per hour. It also features a 150-foot drop.
Minimum Height: 54"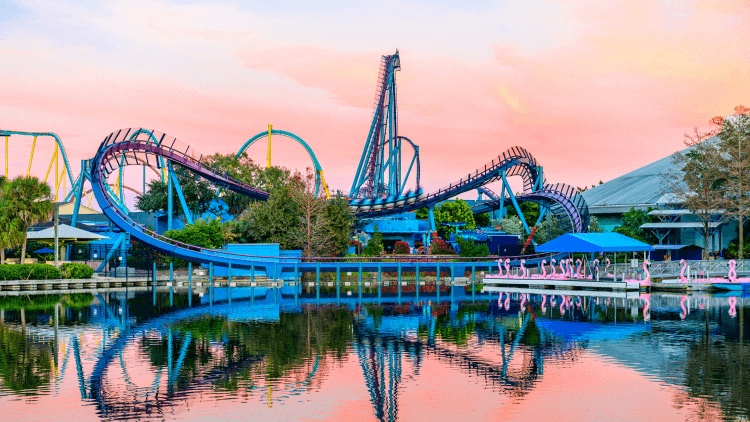 Mako®
Named after the Mako shark, the fastest shark in the ocean, this coaster satisfies your need for speed—and huge drops. Classified as a "hypercoaster" due to its 200-foot drop and speeds exceeding 70 miles per hour, Mako is Orlando's tallest and fastest roller coaster. Mako has been awarded the best roller coaster by USA Today's Readers' Choice Awards for 2023. 
Minimum Height: 54"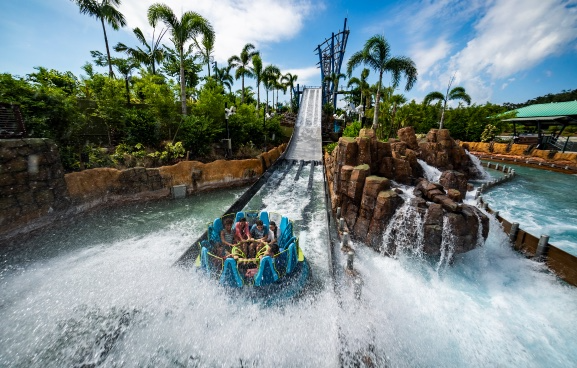 Infinity Falls™
This water raft ride gets you drenched as you float through waterfalls, unexpected geysers, and fountains as you explore mysterious tropical ruins. There are also a variety of rapids that will spin and turn your boat through the river and down one of the tallest drops for a raft-style ride. This family attraction is great for groups and families with school-aged children.
Minimum Height: 42"
Book Your SeaWorld Vacation with Wishing On A Star Travel ®
If you haven't been to SeaWorld yet, now's the perfect time to add a day to your theme park vacation. SeaWorld Orlando is just minutes from Walt Disney World and Universal Studios, making visiting the park on your Orlando vacation convenient and easy. Whether you want to spend the day or plan an overnight stay near the park, we can help! Get a free quote to start planning your trip today.
Sign up for our newsletter for more travel news and tips!
All photos courtesy of SeaWorld Orlando.